Text and Image: Infusing the Sacred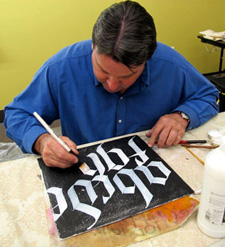 May 21-27, 2017
This workshop is being taught by Randall M. Hasson. He is a Golden Paints Certified Art Educator and a member of the faculty for International Lettering Arts Conferences in the US and Canada. He owns Randall M. Hasson Studio in Santa Fe. You can link to his website at
randallmhasson.com
The workshop teaches a calligraphic hand and the principles of medieval page design with techniques for illumination of letters and decoration.
Beginning with a look at traditional examples of two illuminated manuscript styles,students will choose one example to study for the workshop. Working with traditional tools, we will commence a study of the chosen letterform and work with the lettering itself to understand and refine forms as the week progresses.
An overview of the characteristics of this hand will be discussed including an analysis of form, shape, rhythm of writing and the texture of the text on the page as well as historical context and the evolution of the letter form.
As the week progresses, we will discuss the techniques for layout and design of the page and the incorporation of illuminations. Canons of page construction and the design of illuminated letters and decorations will end the week to tie both calligraphy and illumination together.
Students are encouraged to choose a scripture or passage that is personal and meaningful to them. This will be a contemplative week in which the symbolism of the imagery and the incorporation of illumination will serve to create meaning as we combine imagery with the word.
The fee for a private room, meals, and class is $695.
The commuter fee is $400. (The mid-day meal is included.)
In addition, a $25 fee for materials will be payable on arrival.
To register, please contact our Retreat Director Bruce Wadsworth at
manager@pecosmonastery.org
or 505-757-6415 ext 112. A deposit of $100 is required to confirm your reservation.