Text and Image: Infusing the Sacred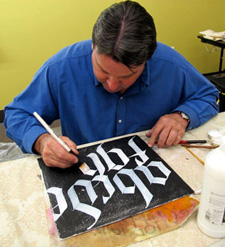 May 21-27, 2017
This workshop is being taught by Randall M. Hasson. He is a Golden Paints Certified Art Educator and a member of the faculty for International Lettering Arts Conferences in the US and Canada. He owns Randall M. Hasson Studio in Santa Fe. You can link to his website at
randallmhasson.com
This class will explore the theory and practice of creating artwork with a spiritual foundation. Using imagery combined with text, participants will learn a painterly approach to reach a goal of visually articulating a spiritual thought or theme into a painting or series of paintings. This class will present a simplified theme for calligraphic paintings, born out of a combination of Randall's complex, multiple-text _Paintings that Inspire Conversation_, a traditional approach for an illuminated manuscript, icon paintings, and the theory and practice of poster art.
Participants will choose their own text, associated imagery, and style. The symbols associated with the spiritual focus being interpreted will have a strong visual influence in the creation of the artwork. These symbols and intent of the artist will then be discussed, and both modern and historical interpretations will be used as examples to provide inspiration. The goal is to create a visual representation of the
theology or belief system of the artist, while creating a contemporary piece of artwork that has its roots in an ancient tradition.
Participants should be prepared for lively and deep discussions that will be used to create a foundation for the artwork and that allows
other participants to gain understanding of the process of working out layout, composition and symbolism for a finished work of art.
Up to 12 Students
The fee for a private room, meals, and class is $695.
The commuter fee is $400. (The mid-day meal is included.)
In addition, a $25 fee for materials will be payable on arrival.
To register, please contact our Retreat Director Bruce Wadsworth at
manager@pecosmonastery.org
or 505-757-6415 ext 112. A deposit of $100 is required to confirm your reservation.