Men's Spirituality Divine Mercy Retreat Sponsored by the Knights of Columbus
April 26-28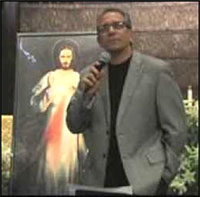 Divine Mercy Retreat April 26-28, 2019 "The Divine Mercy of Jesus"
with 3 Time Grammy Nominee
Singer ♦ Songwriter Musician ♦ Evangelist
Marty Rotella
The importance of the Message of Divine Mercy came alive for Marty at the National Shrine of Divine Mercy in Stockbridge, MA while under the direction of Rev. Seraphim Michalenko, MIC, and Vice Postulator for the canonization of St. Faustina.
Marty and his brother Jules wrote and composed "Rays of Love" & appeared in the hit film 'Divine Mercy, No Escape' produced by the Marians. The movie premiered in 1987— The same year Marian Press published the Diary of Faustina Kowalska 'Divine Mercy in my Soul'. Annually Marty performs at the Divine Mercy Conference in New York City.
With 18 gospel albums, 3 Grammy nominations, Marty travels internationally to parishes and venues, appears on TV and Radio, spreading the Gospel message of Jesus' Love.
"A Faith filled man with a Vision", his music and presentations captivates audiences.
Schedule of Events:
The Divine Mercy of Jesus
with Marty Rotella, Retreat Director
CHECK-IN—Friday, April 26
Plan to arrive Friday afternoon between the hours of 3:00pm – 5:00pm
EVENING—April 26
5:30pm — The retreat will begin with dinner at 5:30pm, followed by introductions and the Sacrament of Reconciliation with priests from the Monastery (and surrounding area) beginning at 6:30 pm.
Divine Mercy Novena (8th Day) & Chaplet of Mercy
SATURDAY — April 27
7:30am—Mass Breakfast follows Mass
Talks & music round the Saturday morning schedule.
12:30pm — Lunch
The afternoon begins with group Bible reading. (We encourage you to bring your Bible or plan on purchasing one at the Monastery)
3:00 pm -- Hour of Mercy -- The Divine Mercy Novena (9th Day) and Chaplet of Mercy. The rest of the afternoon is free for your own spiritual needs.
EVENING—April 27
4:30 pm -- Rosary and Vespers with the Monks or you may wish to rest, or hike in upper Pecos Rivera area.
Anglers (Men and Women) can try their luck fishing the Pecos River or Monastery Lake right on the Monastery grounds (a NM fishing license is required)
5:30 -- Dinner, followed by the Sacrament of Anointing at 8:00 pm in the Abbey's Chapel.
DIVINE MERCY SUNDAY—April 28, 2019
7:30am—Breakfast followed by mass at 9:30 am in the Samuel Jarvis Conference Center.
We will have a final session for you to share your retreat experiences and share with you upcoming events being held at the Monastery in 2019.
Divine Mercy Retreat Open to Men, Women, Married Couples
Cost $150.00 Registration covers Retreat, Sessions, Rooms, Meals
A separate donation of $25 is suggested for Marty's Ministry
TO REGISTER: Call Martin Lopez Guest Services Director (505) 757-6415, ext. 112 Pecos Benedictine Monastery
Sponsored by The Knights of Columbus Santa Fe Council 1707
View the Flyer - pdf
Click here for the Schedule - pdf
More Retreats at the Abbey
July 15 - July 20