School of Spiritual Direction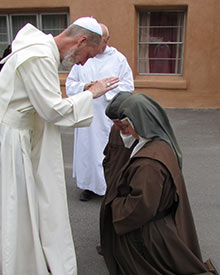 Fifty-Fourth School
June 1 – 24, 2019
Our Lady of Guadalupe Abbey
Pecos, New Mexico
Follow-up Session:
February 2 – 17, 2020
In Residence-Training and living accommodations at the Pecos Benedictine Monastery, nestled in the breathtaking Pecos River Valley, a spiritual place where people flock for peace and to nurture their spirituality on 1000 acres of mountain property and Monastery Lake. A place for reflection, contemplation and study!
Experienced practitioners and spiritual directors with advanced academic back-grounds teach and lecture in the art of Spiritual Direction
Emphasis on Benedictine, Carmelite, Franciscan, & Ignatian Spiritualties
Strong Scriptural indoctrination, learning practicum, faith inspired and challenged
Certificate of Completion at end of the course
To register call 505-757-6415
What is Spiritual Direction?
Spiritual Direction is the art of accompanying an individual on their journey as they attempt to deepen their relationship with God and further develop their own personal spirituality.
School of Spiritual Direction
Although this is called a "school", it is far from being a purely academic exercise. It is a school in the original sense of a "community of people gathered together for a common purpose".
The school was started in January 1979 by the late Abbot David Gerates, OSB, the first abbot of this monastery. The school has graduates from all 50 states and 16 foreign countries. Unlike other Schools where much of the work is done on-line, our School provides participants the unique opportunity for growth in a monastic setting.
Students will enter into the rhythm of monastic life joining the community in prayer and study. This course is designed in two phases. The initial phase lasts three weeks (a change from the 30-day initial phase of the past - usually held in the month of June) and introduces the students to living a more balanced life style and deepening one's relationship with God. The school is multifaceted providing each individual the opportunity for a life changing experience bringing about inner healing and wholeness.
While at the monastery each student will be provided with a Spiritual Director. Following the first session students will return home with specific assignments to be completed prior to returning for the second phase. This is a two week session usually held in February of the following year. A certificate of completion will be awarded at the end of this session. Many graduates have chosen to become Spiritual Directors assisting others in their walk with the Lord. Others participate in the School for their own personal growth and deepening their spiritual life and relationship with God and humanity.
Course of Study
Personal integration is key to the success of the program. Participants will be introduced to personality types as well as various types of spirituality, including but not limited to Benedictine, Franciscan, Ignatian and Carmelite. The art and practice of Holy Listening and the setting of boundaries is discussed in addition to the Principals and Ethics of Spiritual Direction. A component of the course is the differentiation of the spiritual growth of an individual or the need to refer an individual to a professional for help.
Students are in class Monday to Saturday. There are no classes on Sunday.
Cost of the School
The cost for the month long session is $4,350.00 which includes room, board, meals, laundry facilities, note book and instructor's handouts. (1st session: $2,600.00 / 2nd session: $1,750.00)
Application Process
The application and reference letter forms may be downloaded by clicking on the links below.
Download the Application for the School in PDF format.
Download the Recommendation Form in PDF format.
Application and reference letters are to be sent by USPS. Once the application has been reviewed and references received a formal letter of acceptance will be issued. At that time a 10% deposit is required to hold a room. The monastery accepts personal and bank checks as well as most major credit cards.
Additional Information
Abbot Aidan Gore, OSB oliv. is the Director of the school. Scholastica Payer, OSB obl. will assist Abbot Aidan with facilitation.