Randall M. Hasson 2020 Retreat
May 17 through May 23, 2020
Join Randall M. Hasson as he guides this six night-five day calligraphy workshop in the tranquil environment of the Pecos Benedictine Monastery beginning Sunday, May 17 through Saturday, May 23, 2020.
Randall M. Hasson brings a unique perspective to the Art world. His use of calligraphy combined with illustration creates a feast for the eyes and a depth of composition that can take the viewer to multiple levels of interpretation. The written word in text form is used in his paintings to create impact visually and emotionally, while inviting the viewer to "discover" elements over time that are not readily discernible at first glance. These paintings "inspire conversation" according to Randall's collectors.
Artwork with a Focus on the Sacred
This retreat is open to your own personal focus of the subject matter that you consider sacred. Each participant can choose whether to focus on the whole process or on specific techniques that interest them. Personal style is encouraged.
For the 2020 retreat, we will be exploring the calligraphic painting process. Each participant will choose a subject or theme that is personal to them, and collect images (if desired) quotes and text for use during the week.
Calligraphy Focus:
The Versal: Historic uses, Modern Possibilities
Painting Focus:
The Calligraphic Painting Process - Calligraphy and image on canvas
Please download this
PDF
for more detailed information about the workshop
Please expect a week of learning, sharing and inspiration as we "Focus on the Sacred".
Small intimate group of 8-10 assures maximum personal attention.
RESERVE YOUR SPOT NOW!
Workshop Registration and Accommodations include six nights, private room and bath, with meals included.
Total cost for accommodations and workshop: $845.
Email:  
guestmaster@pecosmonastery.org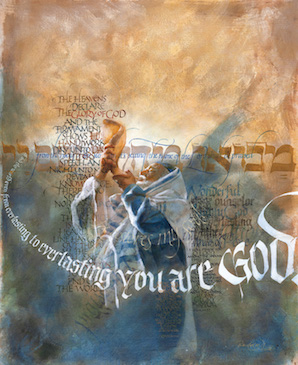 "Symbolism is very important to me and to this end, the research of the text in combination with the illustrations and the overall composition play a vital role in my work. I want my paintings to have different levels for the viewer to experience, from visual to conceptual, so that one can continually discover new elements as time passes." 


Randall M. Hasson Studio Website: randallhasson.wordpress.com