Building a Solid Foundation with Pastels
Discover the exciting world of colors and the immediacy of expression that pastel can offer.
Tobi Clement, professional award-winning pastel artist, guides this five night-four day retreat in the tranquil environment of the Pecos Benedictine Monastery. July 15 through July 20, 2020.
The information presented will be for beginning to intermediate students. The first day will be spent indoors to learn everything you should know about the characteristics of the different pastel papers and pastel brands. There will be short exercises that allow you to explore and discover the materials that best suite your approach to painting with pastels. The second day will address foundations for techniques and the third and fourth days you will paint outdoors so you have time to incorporate the techniques you have learned and develop your ability to see and connect with nature.
You will learn effective art skills such as: understanding and choosing the appropriate materials, methods of layering of pastels, and the power of a color story. This workshop is perfect for beginners and intermediates.
Small intimate group of 15 assures maximum personal attention Take home a comprehensive binders filled with daily exercises, paper and pastel samples, color charts, and much more for future reference.
RESERVE YOUR SPOT NOW!
Accommodations include five nights, private room and bath, with meals included.
Total cost for accommodations and workshop: $800. 
Email:  
tobiclement13@gmail.com
Website:
tobiclementartist.com/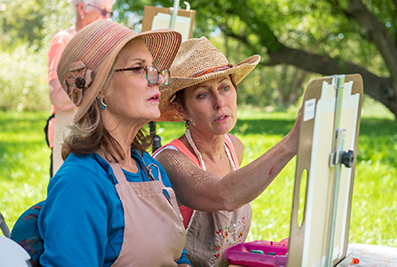 "Tobi's workshop was a breakthrough for me in plein air pastel painting. The training in developing a color study before beginning the actual painting was a revelation and I have adopted it into my workflow, even in the studio. Tobi's energy and enthusiasm are contagious and her love of teaching permeates her workshops. HIGHLY recommended." 
Chet Burgess