Intuitive Path to Pastels
Tobi Clement, professional award-winning pastel artist, guides this four night-three day retreat in the tranquil environment of the Pecos Benedictine Monastery. June 12-16, 2019
Workshop #1 includes many playful hands-on exercises. Learn effective art skills such as: understanding your materials, layering of pastels, the power of color, and  the simplicity of shapes. Develop a method to tap in to your intuitive ability to see and observe nature on a deeper level. Combining these skill sets skill sets will enable you to tell an expressive story with pastels. This workshop is perfect for beginners.
Small intimate group of 16 assures maximum personal attention Take home a comprehensive binders filled with daily exercises, paper and pastel samples, color charts, and much more for future reference.
RESERVE YOUR SPOT NOW!
Accommodations include four nights private room and bath with 3 meals meals included.
Total cost for accommodations and workshop: $650. 
Email:  
tobiclement13@comcast.net
Website:
tobiclementartist.com/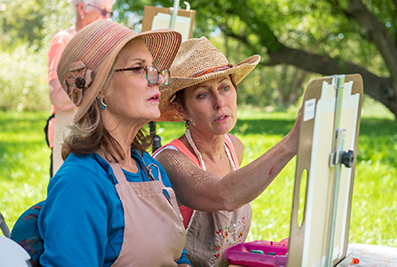 "Tobi's workshop saved me a lot of time and money. Some things I thought I would like didn't work for me. This is the first workshop that provided the opportunity to explore other brands of papers and pastels and I discovered other brands I really like. Having  free samples to play with made is so fun! I came away understanding the importance of shapes and color values and am looking forward to incorporating this knowledge into my future pastel paintings." 
Clair Caraway