News
Monastery News
BALANCE AT CHRISTMAS
PECOS - The new abbot at Our Lady of Guadalupe Abbey started a new Christmas tradition this year: He asked children who attend Mass here to submit gift requests.
And if all goes as planned, the Benedictine monks will have wrapped gifts under the abbey's Christmas tree this morning.
"We get more and more families coming with their kids now," said the Rev. Aidan Gore, who was named abbot here earlier this year. "I encourage people to bring their kids because it brings some life, some joy, some spirit around here."
The Welsh-born abbot leads 11 other monks who live in a valley of astonishing beauty where the upper Pecos River has cut high bluffs through the Sangre de Cristo Mountains about 15 miles east of Santa Fe.
In his homily, Gore uses "A Charlie Brown Christmas" - and, in particular, Linus' explanation of the Christmas story - to appeal to children.
"That's how Jesus taught, with stories and parables," he said.
"When we have a lot of kids, I like to engage the kids and make Mass an enjoyable experience for them."
For many Americans, Christmas is a time of shopping, gift-giving, social gatherings and, of course, huddling around the television to watch sporting contests and specials.
"We get caught up in all that," Gore said. "I try to remind people to do things too for others on a spiritual level as well. To not forget what it's all about, Charlie Brown."
The abbey's 1,100-acre property at various times has served as a ranch, a dude ranch, and even a Wells Fargo stagecoach stop, complete with stables since remodeled as office and living space for the monks.
The Olivetan Benedictine monks have owned the site since 1985. They host individual and group retreats, which provide the abbey's main income. Visitors too often arrive at the abbey "exhausted, wiped out, drained," Gore said.
"It's not easy living out there in the world," said Gore, who bought, restored and sold houses in Santa Fe before he became a monk at age 50. "They just need to rest, be healed, restore themselves, then go back out there."
Christmas can be a time of tension between the material and the spiritual worlds, but the Rev. Bob Lussier, the abbey's prior, forever rid himself of that dilemma in 1988.
Then a successful film and television actor, Lussier summoned friends to his plush home in Hollywood Hills and gave away all his worldly possessions in one wild day of gift-giving.
"I got rid of everything in that one day," said Lussier, who acted in dozens of feature films, television series and more than 200 commercials.
"I didn't know what my reaction was going to be when that time came," he said.
Lussier said he was surprised by his reaction as friends picked through his fine furniture, jewelry and dinnerware, then hauled it away.
"I giggled for the whole day," he said. "I didn't realize that I would be so happy about it. It was really a great joy."
View the original article at The Albuquerque Journal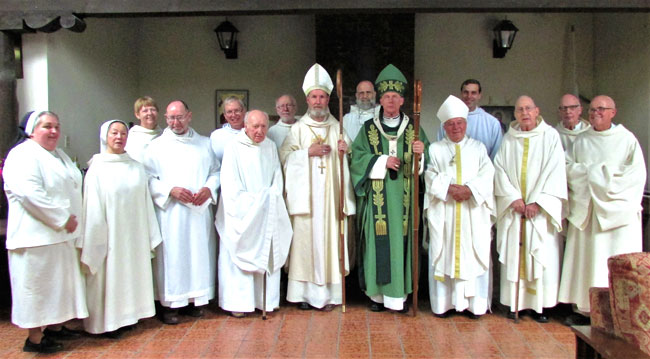 HABEMUS ABBATEM!
"WE HAVE AN ABBOT!"
One June 23rd, Fr. Prior Aidan reminded the community that the Abbot-General of our Benedictine monastery whose headquarters are in Monte Oliveto, Italy, desired that he would like to have one of our three houses in the United States to be raised to an Abbey with an Abbot leading us in this country. He told us that we, Our Lady of Guadalupe Abbey, was selected as that community, and we are to elect that Abbot soon as possible.
As a result, our 'chapter' met on June 24th, our 'prior', Fr. Aidan, was elected as our choice for the Abbot of our monastery. Abbot James Lipire, OSB, oliv the "Definitor" of our congregation in the United States, was notified at our community in Louisiana, and he arrived to 'formally' conduct the election.
Fr. Aidan accepted the results of the election and notified our Abbot-General, Fr. Diego M. Rosa, and our archbishop here in Santa Fe, His Excellency, the Most Rev. John C. Wester, and the date for the Abbatial Blessing was set for July 30, 2016 at Our Lady of Guadalupe Abbey in Pecos, New Mexico. Abbot Aidan was elected the 5 Abbot of the monastic community.
The community of monks, sisters, and oblates are blessed with this gift of God and ask that you pray for us that we might be worthy of this opportunity we are given to return this love from God to all who visit our monastery.
IN THE PHOTO:
Back row: (Left to right) Marilyn Payer (Sr. Scholastica, claustral oblate in residence), Br. Edmond Myszkier , Fr. Coleman Heffern , Br. Bruno Boyko , Br. Jacob Kozel , and Br. Prior Jim Marron
Front row: (Left to right) Sister M. Laura Cathcart, OSB, oliv (Jonesboro, Arkansas), Sister Helen Vasquez, OSB (in residence), Br. Francis Dawson (claustral oblate in residence), Br. John Davies, the Rt. Rev. Dom Aidan Gore, ABBOT, the Most Rev. John C. Wester, Archbishop of Santa Fe, the Rt. Rev. Joel Garner O. Praem. (Norbortines of Santa Fe), Fr. Bob Lussier, and Br. Joseph Janeczko.