Monastery Events

Gift Shop Hours
Sunday/Monday - CLOSED
Tuesday - Saturday: 9:00am - 3:00pm (Closed from 1:00 - 1:30).
Monastery News

Mass Schedule
Subject to change. Call Guest Office to verify.
You can download
this PDF
for more information.
Hermitage Room
Rt. click to open image
in a new tab.

We are NM DOH COVID-Safe Certified!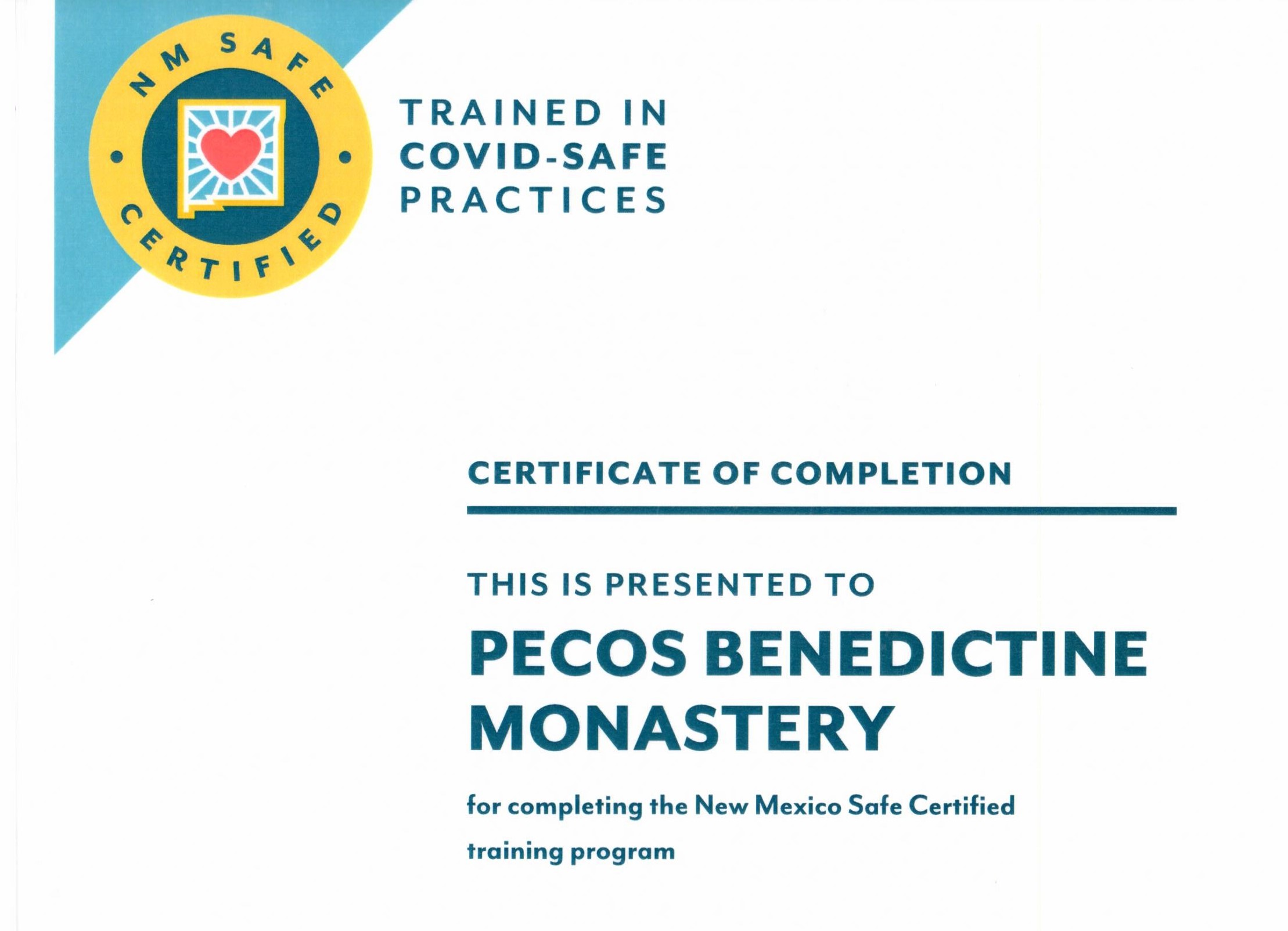 We are officially open!
You are most welcome! According to the Rule of St Benedict - everyone is to be welcomed as Christ. Therefore, even though we are a Catholic Benedictine Monastery, everyone is welcome to come and stay with us. We look forward to greeting you.
Our Guesthouse and Hermitage rooms are available for reservations.
We continue to offer reduced rates for our Guest House and Hermitage rooms. Guest House Room rates are 65.00 per person per night for a room with private bath. Hermitage rooms are $100 per person, per night and offer a small kitchenette and private bath. Each room rate includes our meal plan. Make reservations and book your room today
Guest Office Hours: M-F 9:00am - 3:00 pm. Closed from 1:00 - 1:30.
We are also pleased to offer reduced group rates for groups of 15 or more. Please inquire with the Guest Services Director to book your group retreat.
++++++++++++++++++++++++++++
We also continue to pray for our world at this time. There is much going on, many people are suffering and fearful for the future. As a monastic community, we believe it is our part to pray for the needs of the world and humanity. We do this every day during our monastic office and at the daily mass.
Even though we are separated, we unite ourselves with you in spirit. God is with us, God is with you, and He will never let us down. He loves you.
—In Christ, Abbot Aidan, OSB
The Abbey now enters the 71st year of continuous monastic presence in Pecos.
We look forward to serving the needs of our neighbors and guests for many years to come.