Our Monastery Gift Shop is now online. This page is under construction. We will have items up very soon.
We will have a menu of items prepared complete with pictures hopefully soon. As you may have noticed, we are slowly getting pictures with items up for sale. For more information or if you want to make a purchase for what we have, email us at
giftshop@pecosmonastery.org
or call us at 1 (505) 757-2292 ext. 201
Our hours are Tuesday-Saturday 9:00-3:00 (with lunch break between 12:30-1:00)
Welcome to Our Lady of Guadalupe Abbey Gift Ship

Here we have our handmade Soaps and Immaculate Waters Bath Bombs. Flavors and prices listed below.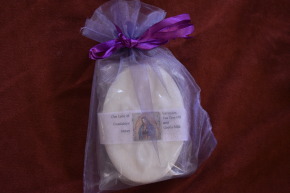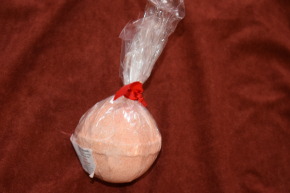 This is our section dedicated to St. Benedict. Prices listed below.
This table consists of Crosses, Crucifixes, Pictures, and other Misc. for your home.
Small Plague with Stand: $10
Crosses
Our Family, small wood: $15
God Bless, large wood: $13
Gather Together, large wood: $20
Faith Looks Up, large wood: $20
We Will Serve The Lord, large wood: $20
Glass Cross Joyful Spirit: $30
Crucifix
Metal, medium gold: $35
Wood, large: $30
Ceramic, large: $40
All Last Supper plagues: $40
Pictures for the Wall
Marriage Prayers: $20
Christ Head of the Household: $10
All That Matters Comes From Above: $35
Misc.
Bracelets: $10
Holy Mother Earrings: $5
Homemade Rosaries, large: $3 (Colors Include Black, Hunter Green, Forest Green, White, Grey, Blue, Tan, Red, Burgundy, and Brown)
Mugs: $10

This section contains blank journals, pens, and the Marriage Prayer.
Blank Journals (Large) $5-$10:
St. Joseph Cover $10
Immaculate Conception Cover $10
Our Lady of Guadalupe Cover $10
Benedictine Cover $10
"You are a blessing." Cover $5
Hand Journals (Different Covers listed below, all at the same price): $3
You are beautiful (Psalm 139:14), precious (Proverbs 31:10), and chosen (John 15:16).
"The secret of happiness is to live moment by moment and to thank God for all that He, in His goodness, sends to us day after day." (St. Gianna Beretta Molla)
Count Your Blessings
Pens (Different types listed below): 4$-$5
St. Joseph Measuring Pen + Bookmark ($5)
Pray, Hope, and Don't Worry ($5)
Nativity Pen ($5)
Jewel Encased Pen; comes in grey, red, and green ($5)
Regular Pen with case ($4)
Marriage Prayer Picture ($20)
This table has a selection of Crystals, Body Care, and other essentials.
Immaculate Waters Body Lotion and Bath Showers (Flavors include Rose, Lavender, and Unscented): $10
Magnets: $2
Decals (Benedict Medals, Sacred Heart of Jesus, or St. Joseph): $10
Rosary: $6
Glow in the Dark Rosary: $0.25
Rosaries with Boxes: $8, $10, $12, $15
Thumb Rosary (wood or stainless steel): $1
Scapular: $1, $5, $6
Healing Stones: $5
Crystals
1 Standing Flower made of silver gold: $15
2 Med. Flower $12
3 Silver Flower Pot: $12
3 Gold Flower Pot: $12
Sm. Gold or Silver Flower: $10
High Heel: $8
Butterfly: $10
Dragonfly: $10
Rosary Pouch: $4, $12
Fan: $4, $7
Dog and Cat Medals: $4
Large Animal Medal: $5
Chains (Gold and Silver, short and long, and with or without clasp): $2
This table has a selection of statues, printed art, and medals (prices listed below)
Small Candles: $2
Statue prices listed below:
Sacred Heart Statue: $80
St. Jude: $10
St. Joseph, small: $5
St. Joseph, big: $20
Jesus the Good Shepherd: $20
Immaculate Heart of Mary and other statues of Mary: $50
Holy Water Fonts: $5, $10, $15, $20, $25
Holy Water Bottles: $3, $5
Angel Statues (Wood or Tin): $15, $20, $30, $40, $50
Printed Artwork: $10, $25, $30
Key Holders: $15
Medals: $0.50, $1, $2
Sr. Catherine Doll: $50
Easter Mug: $10
Baby and Children Items and Books
Books:
Happy Birthday Christmas Child by Laura Sausi: $9
The Dot We Call Home by Laura Alery: $18
St. Francis and the Animals by Phil Gallery: $18
Look and Learn Words for Catholic Kids by Casey Pawelek: $18
Wolf! Wolf! Children's Playbook by Caroline Rackley: $10
Mother and Child ever ancient ever new by Christine Granger: $19
A Happy Child of God, A Baby Record Book by Rev. Daniel A. Lord, S.J.: $10
Items:
Hail Mary Picture: $5
Baptism Crib Medal: $10
Baby Gift Ornament: $7
Lessons From a Llama plague: $20
Hold My Hand, God plague: $20
Be a Butterfly plague: $20
Children's Rosary (Blue or Pink): $3
Rosary Booklet for Children: $0.75
Crib Medals: $9
Baptism Bibs: $10
Purificators: $10
Rosary + Box: $3
Baptism Cross: $15, $20
This section has our traveling essentials.
Patron Saint Magnets: $3
Magnetic Plaques: $3
Novena Booklets: $3 (Including Guardian Angel, Immaculate Conception, Our Lady of the Miraculous Medal, Holy Family, Our Lady of Lourdes, Divine Mercy, Infant of Prague, Sacred Heart, Holy Spirit, St. Gerard, St. Anne, St. Pio, St. Anthony, St. Peregrine, St. Patrick, St. Michael, and St. Jude).
Cards and Bookmarks:
Prayer Cards: $0.30
Protected Bookmarks: $1
Bookmarks: $0.25
Traveling Booklets
Healing Prayer booklets: $2
El Pan de Cada Dia: ($12)
Pocket Prayer book (large): $6
Our Lady's Rosary Novena: $8
Sacred Heart of Jesus (Espanol): $2
El Santo Rosario Ilustrado (small): $2
El Santo Rosario Ilustrado (large): $5
Pictures
Divine Mercy: $2
Mother and Child Picture: $13
Jesus (small): $0.25
Jesus (medium): $1
Laughing Jesus: $4
This wall has our cutting boards. Prices listed between $20-$25.
Rosaries ($4, $5, $6, $10, $20), Measuring Spoons ($14), and Tote Bags ($4)
Here we have Bracelets ($12) and Car Rosaries ($10).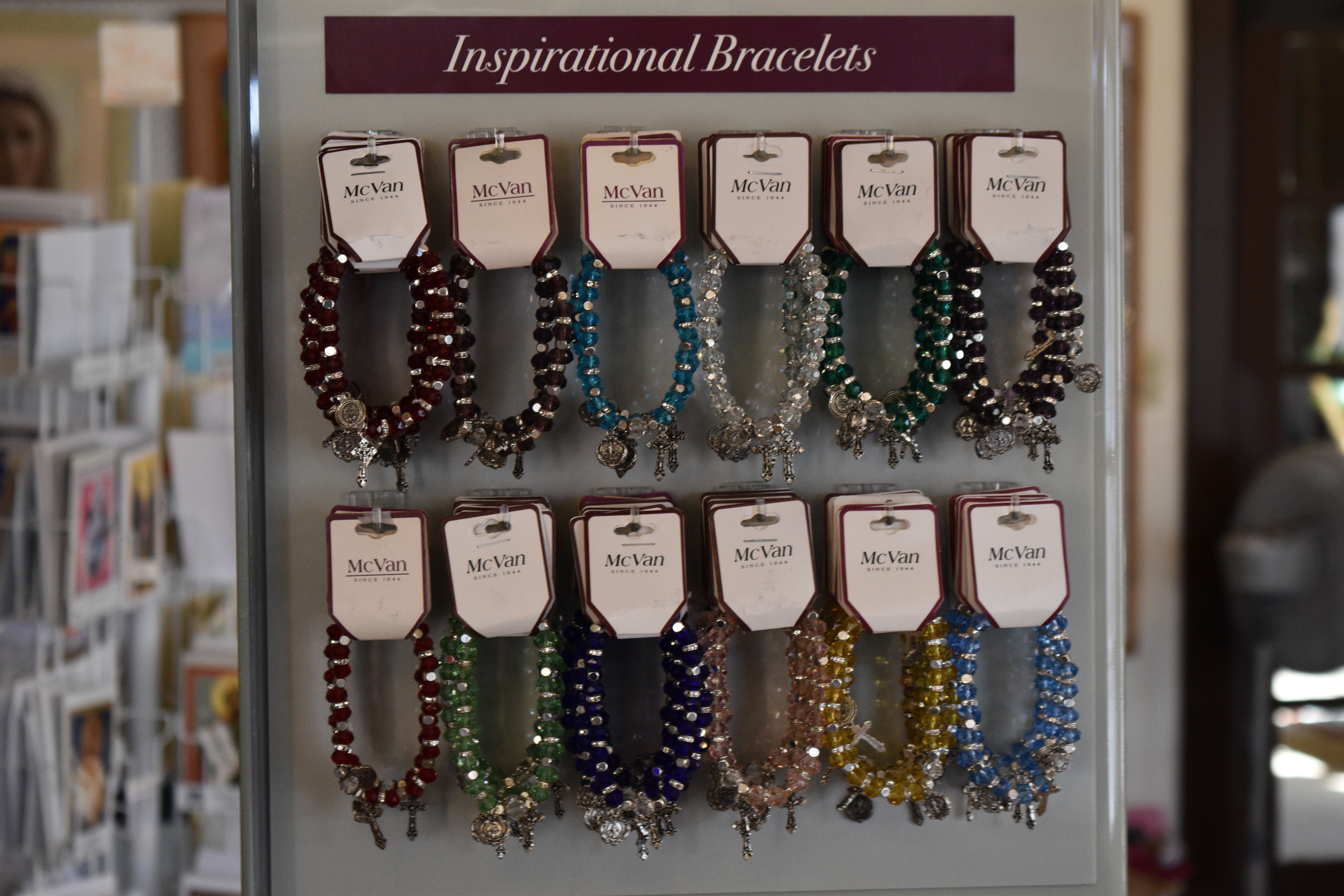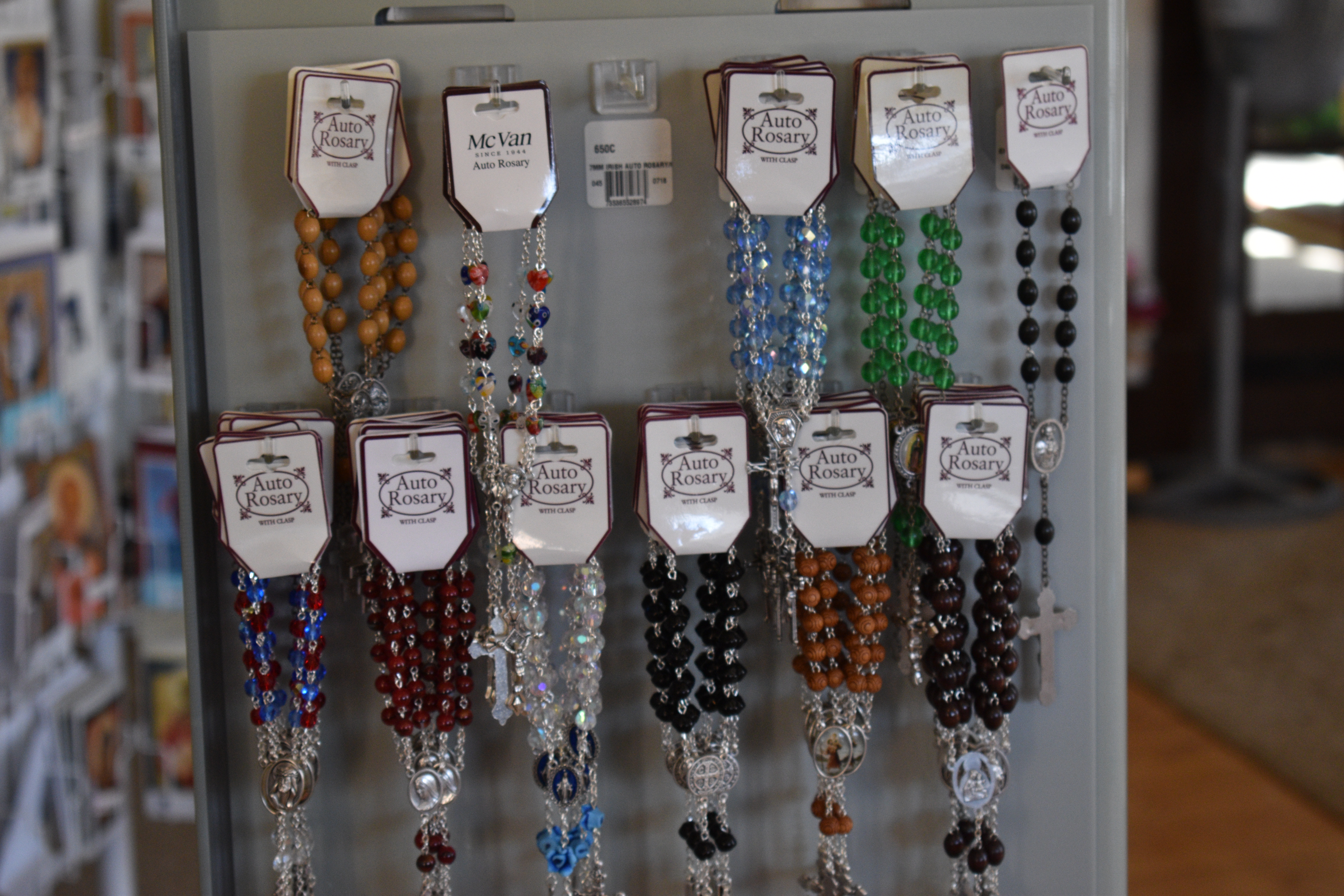 Here we have Water Bottles and Father's Day Gifts
Water Bottles
Ice Filtered: $7
Straw: $5
Dip Mix: $3 (Sweet or Spicy)
Father's Day Gifts
Flashlight With St. Joseph Prayer Card: $5
Man of God Pen: $5
Prayer Bookmark: $0.50
Pocket Knife: $5
Mugs with Coasters: $10
Large Mugs: $15
These shelves contain columns pertaining to 1st Communion
1st Communion
Gift Set (boy or girl): $10
Stuffed Bear: $10
Bracelet, 1st Reconciliation: $3
Bracelet, 1st Communion: $5
1st Communion Giftset: $15
Rosary Pouches: $4
Rosary (Boy or Girl): $10
Gift Bags with Cards and Tissue: $5
Memorial
Symbol for Garden: $10
Heart Pin: $10
Metal Rock Shape for Garden: $24
These Pictures shown here are Works of Art Either Printed or Donated
Prices Range from $10, $25, $50, $80, $90, $100