Our Monastery Gift Shop is now online. This page is almost done. What we have listed online right now is available.
We are nearly finished building this page. As you have noticed, we are slowly getting pictures with items up for sale. All that is left are books.
For more information or if you want to make a purchase for what we have online right now, email us at
giftshop@pecosmonastery.org
or call us at 1 (505) 757-2292 ext. 201
Our hours are Tuesday-Saturday 9:00-3:00 (with lunch break between 12:30-1:00)
Welcome to Our Lady of Guadalupe Abbey Gift Ship

Here we have our handmade Soaps and Immaculate Waters Bath Bombs. Flavors and prices listed below.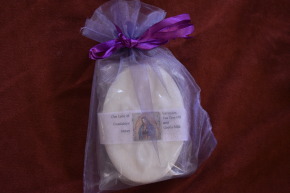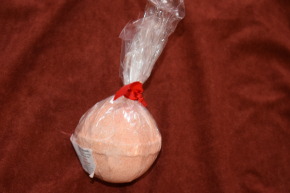 This is our section dedicated to St. Benedict. Prices listed below.
This Table has all the items for traveling or gifts for certain jobs such as Police or Teachers
Visor Clip: $7
Rosebud Angel Pendants: $10
Angel Statue with Message: $15
Car Charm: $8
Palm Cross: $5
Rosary Pin (Our Lady of Grace, St. Jude, or St. Michael the Archangel): $3
Angel Pin: $1
Do Small Things with Great Love plague: $10
Angel Ornament: $5
Prayer Stone: $5
Inspirational Token: $2
This table consists of Crosses, Crucifixes, Pictures, and other Misc. for your home.
Small Plague with Stand: $10
Crosses
Our Family, small wood: $15
God Bless, large wood: $13
Gather Together, large wood: $20
Faith Looks Up, large wood: $20
We Will Serve The Lord, large wood: $20
Glass Cross Joyful Spirit: $30
Crucifix
Metal, medium gold: $35
Wood, large: $30
Ceramic, large: $40
All Last Supper plagues: $40
Pictures for the Wall
Marriage Prayers: $20
Christ Head of the Household: $10
All That Matters Comes From Above: $35
Misc.
Bracelets: $10
Holy Mother Earrings: $5
Homemade Rosaries, large: $3 (Colors Include Black, Hunter Green, Forest Green, White, Grey, Blue, Tan, Red, Burgundy, and Brown)
Mugs: $10

This section contains blank journals, pens, and the Marriage Prayer.
Blank Journals (Large) $5-$10:
St. Joseph Cover $10
Immaculate Conception Cover $10
Our Lady of Guadalupe Cover $10
Benedictine Cover $10
"You are a blessing." Cover $5
Hand Journals (Different Covers listed below, all at the same price): $3
You are beautiful (Psalm 139:14), precious (Proverbs 31:10), and chosen (John 15:16).
"The secret of happiness is to live moment by moment and to thank God for all that He, in His goodness, sends to us day after day." (St. Gianna Beretta Molla)
Count Your Blessings
Pens (Different types listed below): 4$-$5
St. Joseph Measuring Pen + Bookmark ($5)
Pray, Hope, and Don't Worry ($5)
Nativity Pen ($5)
Jewel Encased Pen; comes in grey, red, and green ($5)
Regular Pen with case ($4)
Marriage Prayer Picture ($20)
This table has a selection of Crystals, Body Care, and other essentials.
Immaculate Waters Body Lotion and Bath Showers (Flavors include Rose, Lavender, and Unscented): $10
Magnets: $2
Decals (Benedict Medals, Sacred Heart of Jesus, or St. Joseph): $10
Rosary: $6
Glow in the Dark Rosary: $0.25
Rosaries with Boxes: $8, $10, $12, $15
Thumb Rosary (wood or stainless steel): $1
Scapular: $1, $5, $6
Healing Stones: $5
Crystals
1 Standing Flower made of silver gold: $15
2 Med. Flower $12
3 Silver Flower Pot: $12
3 Gold Flower Pot: $12
Sm. Gold or Silver Flower: $10
High Heel: $8
Butterfly: $10
Dragonfly: $10
Rosary Pouch: $4, $12
Fan: $4, $7
Dog and Cat Medals: $4
Large Animal Medal: $5
Chains (Gold and Silver, short and long, and with or without clasp): $2
This table has a selection of statues, printed art, and medals (prices listed below)
Small Candles: $2
Statue prices listed below:
Sacred Heart Statue: $80
St. Jude: $10
St. Joseph, small: $5
St. Joseph, big: $20
Jesus the Good Shepherd: $20
Immaculate Heart of Mary and other statues of Mary: $50
Holy Water Fonts: $5, $10, $15, $20, $25
Holy Water Bottles: $3, $5
Angel Statues (Wood or Tin): $15, $20, $30, $40, $50
Printed Artwork: $10, $25, $30
Key Holders: $15
Medals: $0.50, $1, $2
Sr. Catherine Doll: $50
Easter Mug: $10
Baby and Children Items and Books
Books:
Happy Birthday Christmas Child by Laura Sausi: $9
The Dot We Call Home by Laura Alery: $18
St. Francis and the Animals by Phil Gallery: $18
Look and Learn Words for Catholic Kids by Casey Pawelek: $18
Wolf! Wolf! Children's Playbook by Caroline Rackley: $10
Mother and Child ever ancient ever new by Christine Granger: $19
A Happy Child of God, A Baby Record Book by Rev. Daniel A. Lord, S.J.: $10
Items:
Hail Mary Picture: $5
Baptism Crib Medal: $10
Baby Gift Ornament: $7
Lessons From a Llama plague: $20
Hold My Hand, God plague: $20
Be a Butterfly plague: $20
Children's Rosary (Blue or Pink): $3
Rosary Booklet for Children: $0.75
Crib Medals: $9
Baptism Bibs: $10
Purificators: $10
Rosary + Box: $3
Baptism Cross: $15, $20
This section has our traveling essentials.
Patron Saint Magnets: $3
Magnetic Plaques: $3
Novena Booklets: $3 (Including Guardian Angel, Immaculate Conception, Our Lady of the Miraculous Medal, Holy Family, Our Lady of Lourdes, Divine Mercy, Infant of Prague, Sacred Heart, Holy Spirit, St. Gerard, St. Anne, St. Pio, St. Anthony, St. Peregrine, St. Patrick, St. Michael, and St. Jude).
Cards and Bookmarks:
Prayer Cards: $0.30
Protected Bookmarks: $1
Bookmarks: $0.25
Traveling Booklets
Healing Prayer booklets: $2
El Pan de Cada Dia: ($12)
Pocket Prayer book (large): $6
Our Lady's Rosary Novena: $8
Sacred Heart of Jesus (Espanol): $2
El Santo Rosario Ilustrado (small): $2
El Santo Rosario Ilustrado (large): $5
Pictures
Divine Mercy: $2
Mother and Child Picture: $13
Jesus (small): $0.25
Jesus (medium): $1
Laughing Jesus: $4
This wall has our cutting boards. Prices listed between $20-$25.
Rosaries ($4, $5, $6, $10, $20), Measuring Spoons ($14), and Tote Bags ($4)
Here we have Bracelets ($12) and Car Rosaries ($10).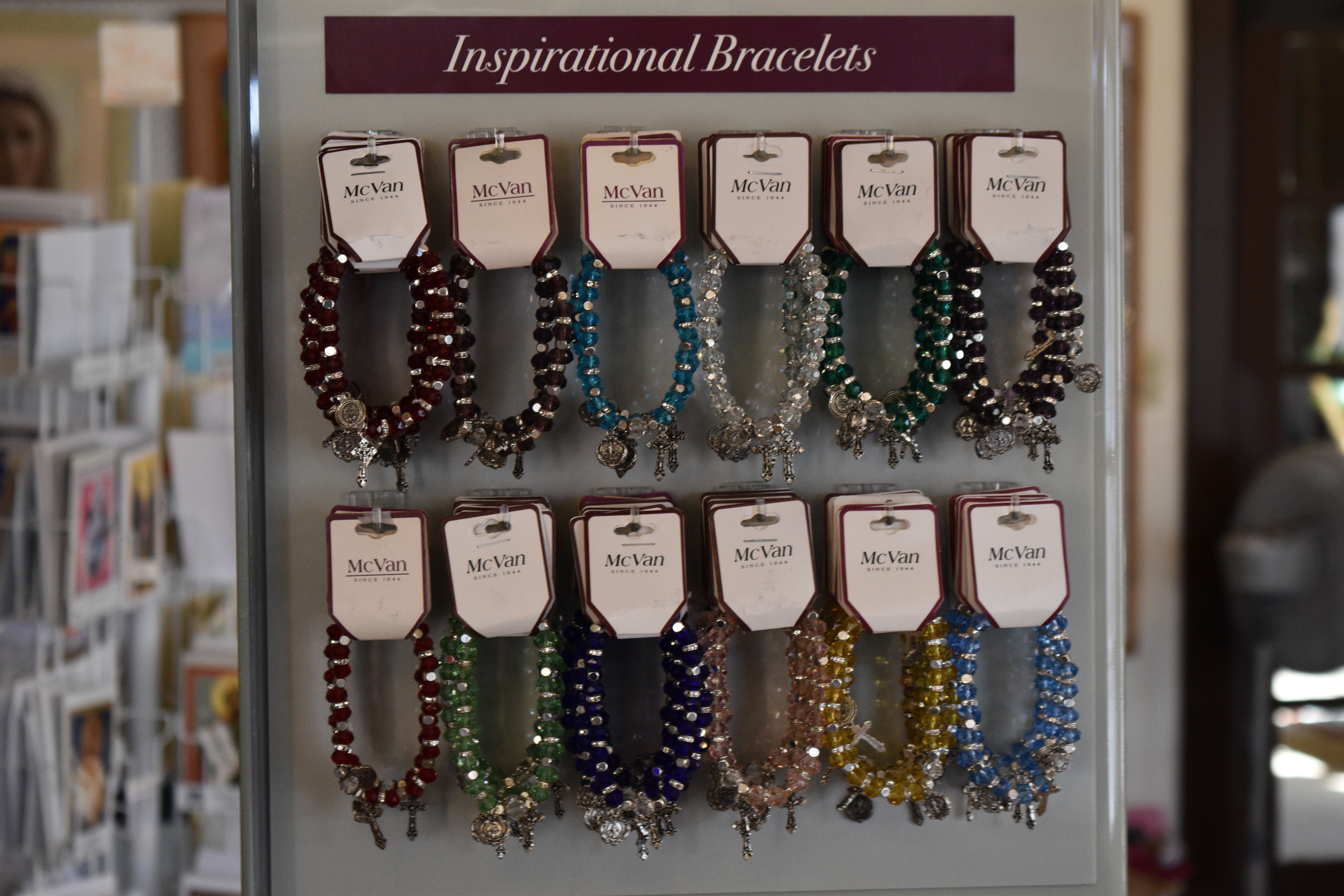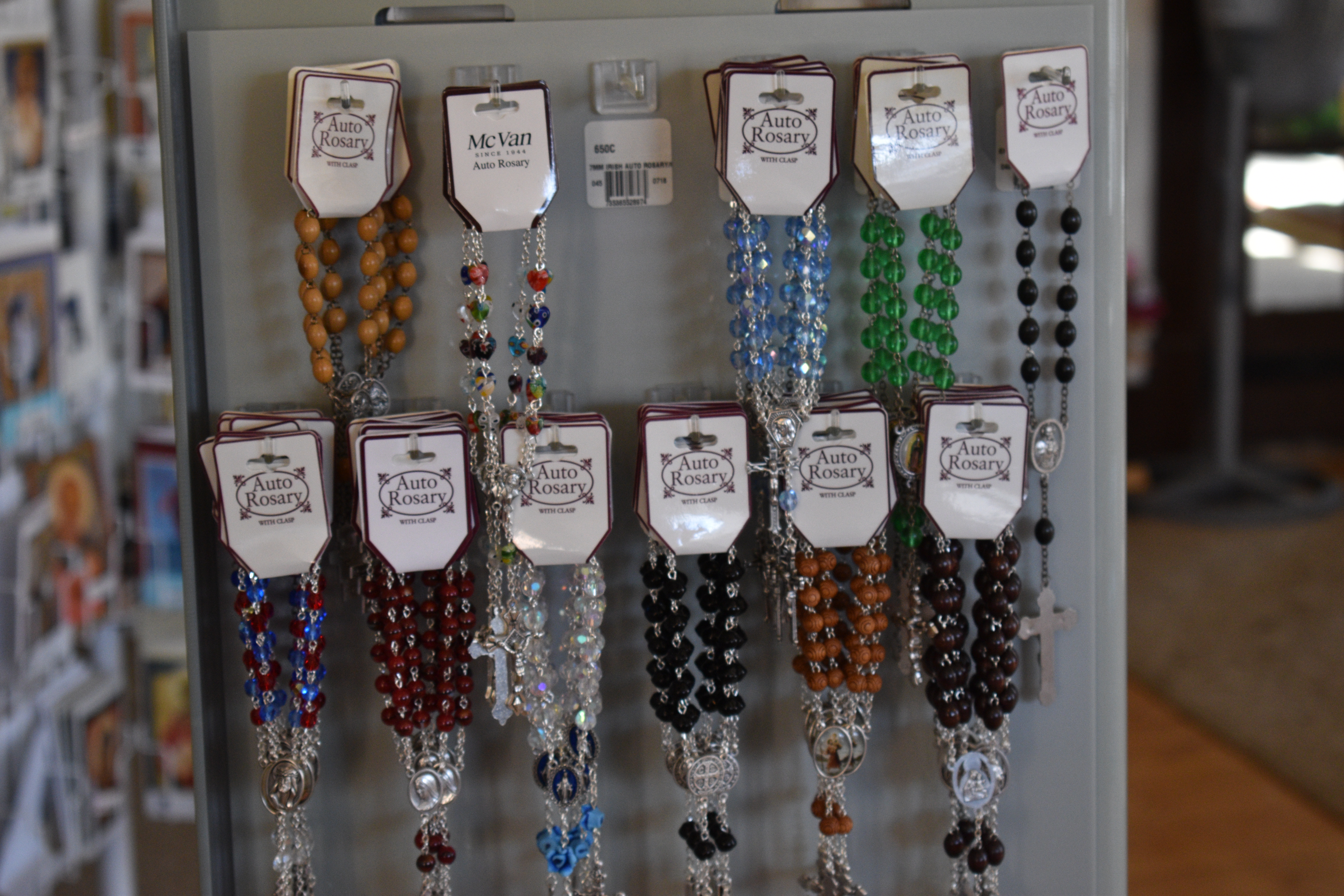 Here we have Water Bottles and Father's Day Gifts
Water Bottles
Ice Filtered: $7
Straw: $5
Dip Mix: $3 (Sweet or Spicy)
Father's Day Gifts
Flashlight With St. Joseph Prayer Card: $5
Man of God Pen: $5
Prayer Bookmark: $0.50
Pocket Knife: $5
Mugs with Coasters: $10
Large Mugs: $15
Bells, Children's Tote bags, Graduation, and Confirmation
Graduation
Picture Frame: $18
Cross: $20
Confirmation
Gift Set: $25
Cross: $15, $20
Symbols for Chain: $6
Necklace: $8
Bracelet: $8
Kids Tote Bags: $6
Rose or Silver Angels Bells
Large Bells (8"): $20
Medium Bells (6"): $15
Small Bells (4"): $10
These shelves contain columns pertaining to 1st Communion
1st Communion
Gift Set (boy or girl): $10
Stuffed Bear: $10
Bracelet, 1st Reconciliation: $3
Bracelet, 1st Communion: $5
1st Communion Giftset: $15
Rosary Pouches: $4
Rosary (Boy or Girl): $10
Gift Bags with Cards and Tissue: $5
Memorial
Symbol for Garden: $10
Heart Pin: $10
Metal Rock Shape for Garden: $24
These Pictures shown here are Works of Art Either Printed or Donated
Prices Range from $10, $25, $50, $80, $90, $100
Books of various kinds including spiritual guidance, inspiration, and learning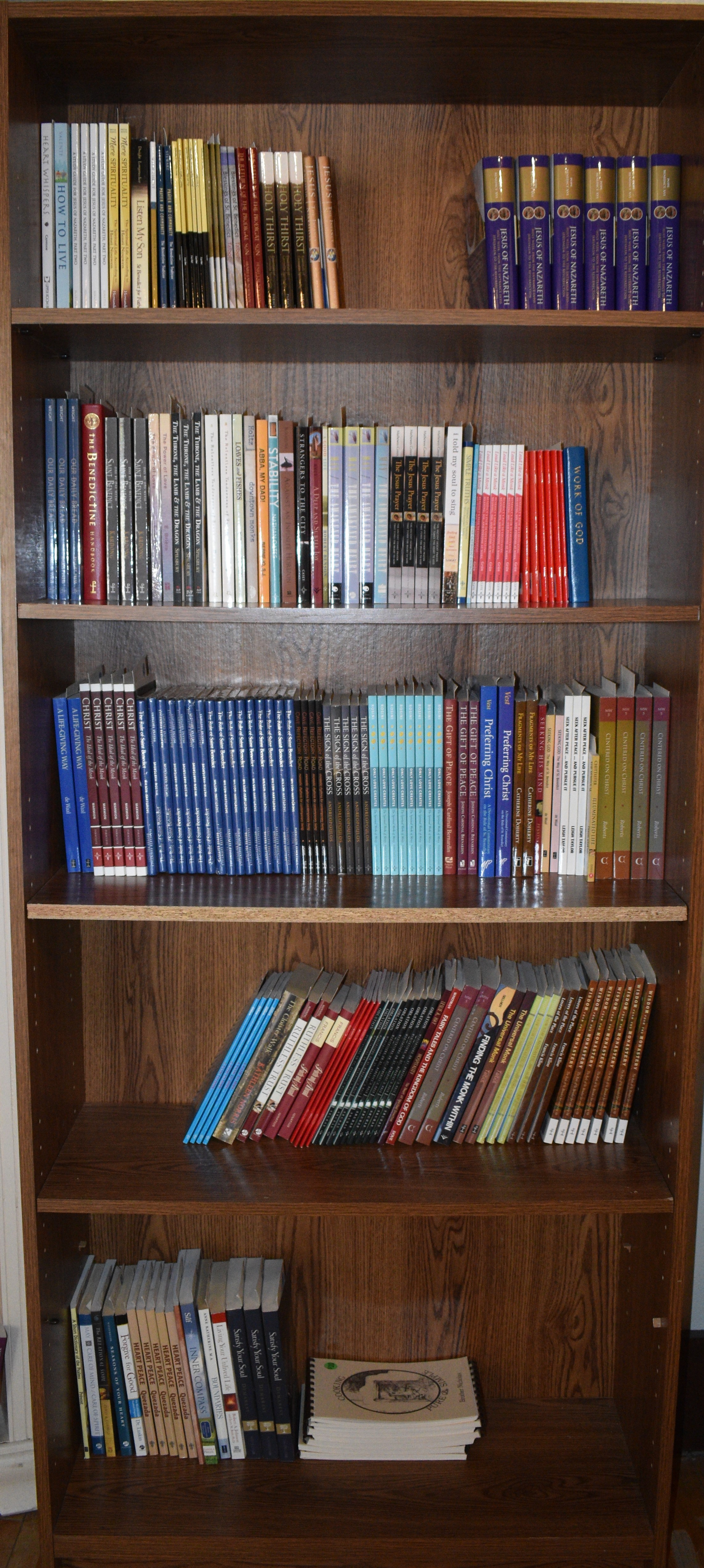 1st Bookshelf, 1st Shelf
Spirituality for Everyday Living by Brian C. Taylor: $12
Prayer and Community by Columba Stewart, OSB: $18
Blessings of St. Benedict by John Michael Talbot: $16
How to Live St. Benedict Teach Us by Judith Valente: $17
Heart Whispers Benedictine Wisdom by Elizabeth J. Canham: $12
Listen My Son St. Benedict by Dwight Longenecker: $28
St. Bernard Tolomei by St. Mary of Monte Oliveto: $17
A Study Guide for Joseph Ratzinger's (Pope Benedict XVI): $8 for soft copy, $18 for hard copy
Pope Benedict XVI: Jesus of Nazareth by Cardinal Joseph Ratzinger: $16
Mere Spirituality/The Spirituality Life by Will Hernandez: $17
The Return of the Prodigal Son by Hemi J.M. Nouwen: $16
Holy Thirst, Essentials of Carmelite Spirituality by Paraclete Press, Foreward by Adam Bucko: $19
With Christ The Gospel of Guidance of Saint Benedict by Jean Francois Baudoz: $8
2nd Shelf
Catholic Update by Franciscan Media: $6
Abba, My Dad by Luis M. Bermejo, S.J.: $10
Our Daily Bread by Ralph Wright, OSB: $11
Downtown Monks by Albert Holtz, OSB: $11
Loaves and Fishes by Joseph D. Ciezinski: $13
Strangers to the City by Michael Casey (Monk of Tarrawarra): $17
Against An Infinite Horizon by Ronald Rolheiser: $17
Stability by Nathan Oates: $17
I Told My Soul to Sing by Kristin LeMay: $18
Work of God Benedict Prayer (Hard Copy) by Judith Sutera, OSB: $35
God, Grace, and Horses by Laurie M. Brock: $18
The Jesus Prayer by Frederica Mathewes-Green: $18
The Awakened Heart by Gerald G. May, M.D.: $18
The Relentless Tenderness by Brennan Manning: $13
A Good Life, Benedict's Guide to Everyday Joy by Robert Benson: $10
A Deep and Subtle Joy by Luke Bell, OSB: $16
The Power of Love by Fr. Emile Briere: $12
Lead Like a Monk by Anselm Grün: $12
The Rule of St. Benedict in English (Soft Cover) by Timothy Fry, OSB: $5
The Benedictine Book Handbook (Hard Cover): $25
Day by Day Saint Benedict by Terrence G. Kardong: $25
The Throne, The Lamb, and The Dragon Reader's Guide to the Book of Revelation by Paul Spilsbury: $16
3rd Shelf
Centered On Christ A Guide to Monastic Profession by Augustine Roberts, OCSO: $35
Illuminated Life by Joan Chittister: $17
Seek After Peace and Pursue It by Leigh Taylor, OBL OSB: $8
Seeking God the Way of St. Benedict by Esther DeWaal: $13
Seeking His Mind by M. Basil Pennington, OCSO: $17
Preferring Christ by Norvene Vest: $20
The Gift of Peace by Joseph Cardinal Bernadin (Soft Cover): $14
The Gift of Peace by Joseph Cardinal Bernadin (Hard Cover): $18
Only Love Creates the Spiritual Works of Mercy by Fr. Fabio Rosini: $15
The Sign of the Cross by Andreas Andreopoulos: $18
The Rule of St. Benedict (St. Benedict of Nursia) by Johnathan Wilson-Hartgrove: $18
Christ (The Ideal of a Monk) by Abbot Columba Marmion, OSB: $17
Cave Refectory Road by Ian Adams: $15
A Life Giving Way A Commentary of the Rule of St. Benedict by Esther DeWaal: $20
Fragments of My Life, a Memoir by Catherine Doherty: $13
4th shelf
Wisdom From the Monastery by Patrick Barry, Richard Yeo, Kathleen Norris, and others: $16
Lovers of the Place Monasticism Loose in the Church by Francis Kline: $12
How to be a Monastic and Not Leave Your Day Job by Brother Benet Tvedten: $16
The Universal Monk, The Ways of New Monasteries by John Michael Talbot: $20
Finding the Monk Within Great Monastic Values for Today by Edward C. Sellner: $24
Centered on Christ, A Guide Monastic Profession by Augustine Roberts, OCSO: $24
Fairy Tales and The Kingdom of God by Allen Whitman: $5
Hospitality, The Heart of Spiritual Direction by Lesley A. Hay: $18
Oblation, Meditations on St. Benedict Rules by Rachel M. Srubas: $17
The Monastics Hours by Anne M. Field: $8
Forth and Abroad, Still Mary on Land and by Sea by Mother Mary Francis, PCC: $6
Ruthless Trust, The Ragamuffin's Path to God by Brennan Manning: $15
The Cloister Walk by Kathleen Norris: $16
A Path to Hope by James P. Lisante: $7
5th Shelf
Pure Simple Cookbook by Brother Nicholas from Pecos: $10
Satisfy Your Soul by Dr. Bruce Demarest: $17
Caremind/Care of the Spirit by Gerald G. May, M.D.: $15
The Relational Soul by Richard Plass/James Cofield: $17
Seasons of Your Heart by Macrina Wiederkehr: $14
Forgive for God by Dr. Fred Luskin: $17
Heart Peace by Adolfo Quezada: $10
Forgiven and Set Free for Women by Linda Cochrane: $5
Inner Compass, An Invitation to Ignation Spirituality by Margaret Silf: $15
Boundaries, Where You end and I Begin by Anne Katherine, M.A.: $15
Living Your Unlived Life by Robert A. Johnson and Jerry M. Ruhl, Ph. D.: $17
A short Dictionary of the Psalms by Jean-Pierre Prevost: $10
2nd Bookshelf, 1st Shelf
Glimpses of Grace, Daily Thoughts and Reflections by Madeline L. Engle: $10
Grace in Every Season by Catherine Doherty: $15
Living Each Day by the Power of Faith by Barbara Shelmon Ryan: $9
One Like Jesus, Conversations on the Single Life by Debra K. Farrington: $7
Toward God, the Ancient Wisdom of Western Prayer by Michael Casey: $13
God and You, Prayers as a personal Relationship by William A Barry, S.J.: $7
Beginning to Pray by Anthony Bloom: $9
The Loving Search for God by William A Meninger: $10
Praying With Francis De Sales by Thomas F. Daily: $12
Praying With Elizabeth Seton by Margaret Alderman/Josephine Burns: $12
Praying With Dominic by Michael Monshay: $12
Conversing With God in Scripture by Stephen J. Binz: $13
How to Pray with the Bible by Karla A Schultz: $10
Renewing the Ancient Practice of Praying the Scripture by M. Basil Pennington: $17
From God's Word to Our Own Lives by Enzo Bianchi: $17
Sacred Reading by Michael Casey: $13
Listening Prayer by Leanne Payne: $17
All Manner of Things by William Meninger, OSCO: $10
Fully Human, Fully Divine by Michael Casey: $20
2nd Shelf
The St. Therese of Liseaux Prayer Book by Vinita HamptonWright: $10
Christian Meditation, Your Daily Practice by Laurence Freeman, OSB: $3
Centering Prayer, Renewing an Ancient Christian Prayer Form by M., Basil Pennington: $15
Too Deep for Words by Thelma Hall, R.C.: $10
Christian Meditation, the Gethsemani Talks by John Main: $9
The Contemplative Way of Prayer, Deepening Your Life with God by Robert Faricy, S.J. and Lucy Rooney, S.N.D.: $6
Prayers for Beginners by Peter Kreeft: $10
Doors into Prayer, an Invitation by Emilie Griffin: $14
An Invitation to Centering Prayer by M. Basil Pennington, O.C.S.O.: $8
Penance, Contemplation, and Service by Patrick Madigan: $15
The Heart of Creation by John Main: $11
Word Made Flesh by John Main: $10
Praying, Following with the Jesus Church. Daily, Hourly, and Today by Scot McKnight: $19
Loving a Passionate God, A Retreat with Jessica Powers by Robert F. Morneau: $8
Creating a Life with God by Daniel Wolpert: $10
Nothing is Impossible with God by John Michael Talbot: $15
Christian Living Today, Meditations by Chiara Lubich: $10
True Prayer by Kenneth Leecht: $18
Spiritual Masters by Archbishop Alfred C. Hughes: $10
The Grace of Outpouring, Blessing Others through Prayers by Roy Godwin and Davis Roberts: $13
Pilgrim (You Find a Path by Walking) by Jeanne Murray Walker: $18
Opening to God, A Guide to Prayer by Thomas H. Green, S.J.: $6
Thoughts Matter by Mary Margaret Funk: $11
Our Greatest Gift, A Meditation on Dying and Caring by Henri Nouwen: $14
Your Word, O Lord, Meditation for College Students and Anyone Else by Cornellius Buckley, S.J.: $7
Unabridged Christianity by Fr. Mario P. Romero: $17
3rd Shelf
Grace on the Journey of God by Michael Casey: $17
Echos of Eternity, Quiet Your Heart and Listen by Hai M. Helms: $16
Divine Intimacy, Celebration of Prayer and Joy of Christian Life by Fr. Gabriel of St. Mary Magdalen, O.C.O.: $10
Short Trip to the Edge, A Pilgrimage to Prayer by Scott Cairns: $17
Practice Holiness, Pope Francis Companion by Albert Haase, OFM: $16
Simple Truths, Thinking Through Life by Bl. Archbishop Fulton J. Sheen: $15
The St. Francis Holy Fool Prayerbook by Jon M. Sweeny: $17
Echos of Eternity, Listening to the Father Vol#1 by Hai M. Helms: $16
Henri Nouwen and Soul Care by Wil Hernandez: $15
Henri Nouwen, A Spirituality of Imperfection: $17
4th Shelf
From Brokenness to Community by Jason Vanier: $7
Scripture Day by Day by Bart Tesoriero: $12
Concerning Spiritual Gifts by Donald Gee: $5
Essential Mystic Prayers by the Paraclete Press: $11
The Fire Within Desire, Sexuality, Longing, and God by Ronald Rolheiser: $16
Tools Matter, Beginning the Spiritual Journey by Mary Margaret Funk: $19
Praying With Mary by Mary Ford-Grabowsky: $5
How Does He Love Me by Brad Lussier: $4
5th Shelf
The Open Door, Entering the Sanctuary of Icons and Prayer by Fredrica Mathewes-Green: $17
Will the Real Apostolic Church Please Stand Up by Dr. Bob Rice: $5
Ever Bloom, Stories of Living Deeply Rooted and Transformed Lives by Shayne Moore and Margaret Ann Phillbrick: $18
Christian Initiation and Baptism in the Holy Spirit by Kiliam McDonnell and George T. Montaque: $31
3rd and 4th Bookshelves containing Prayer Books, Stories, and Spiritual Guidance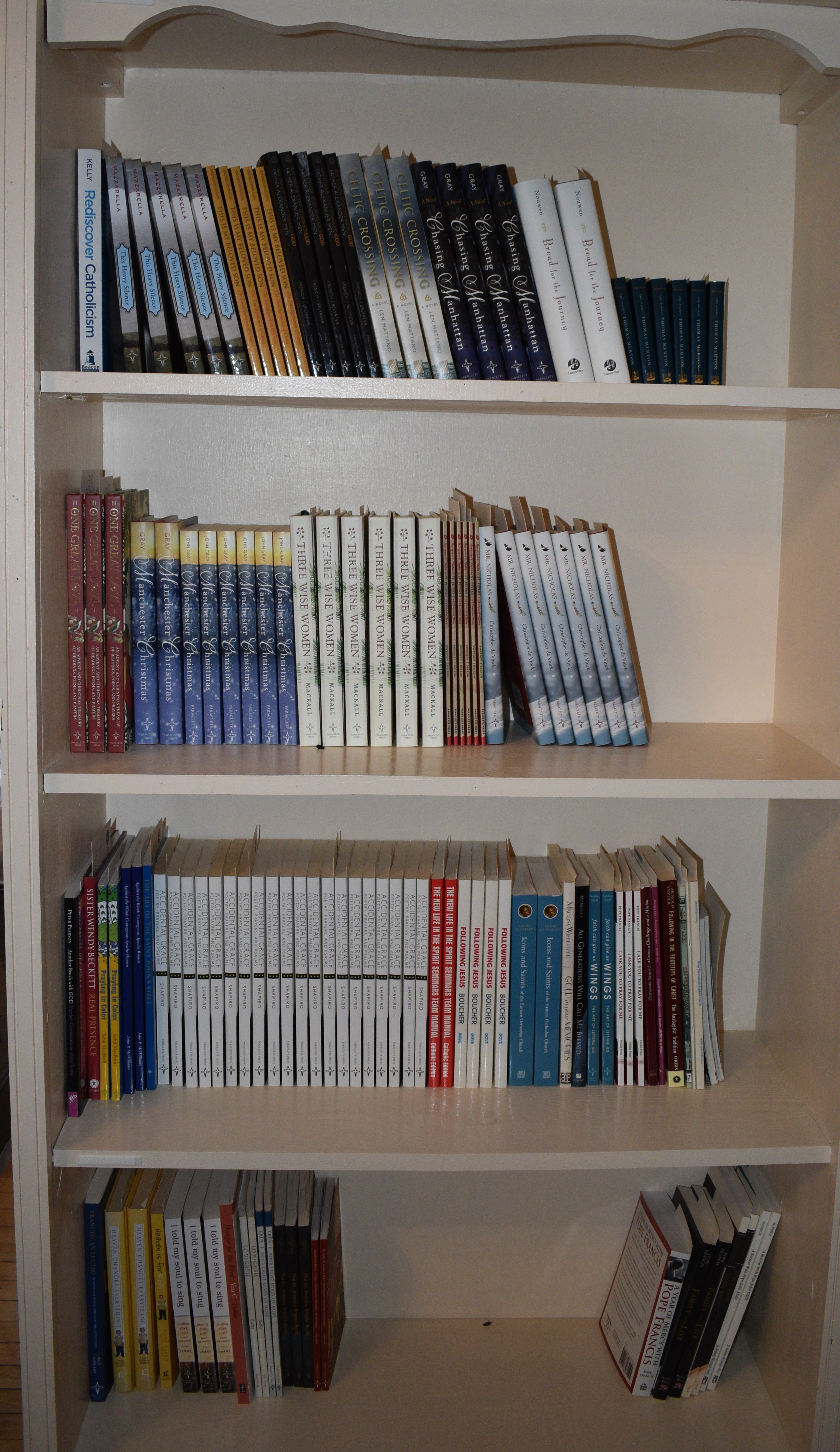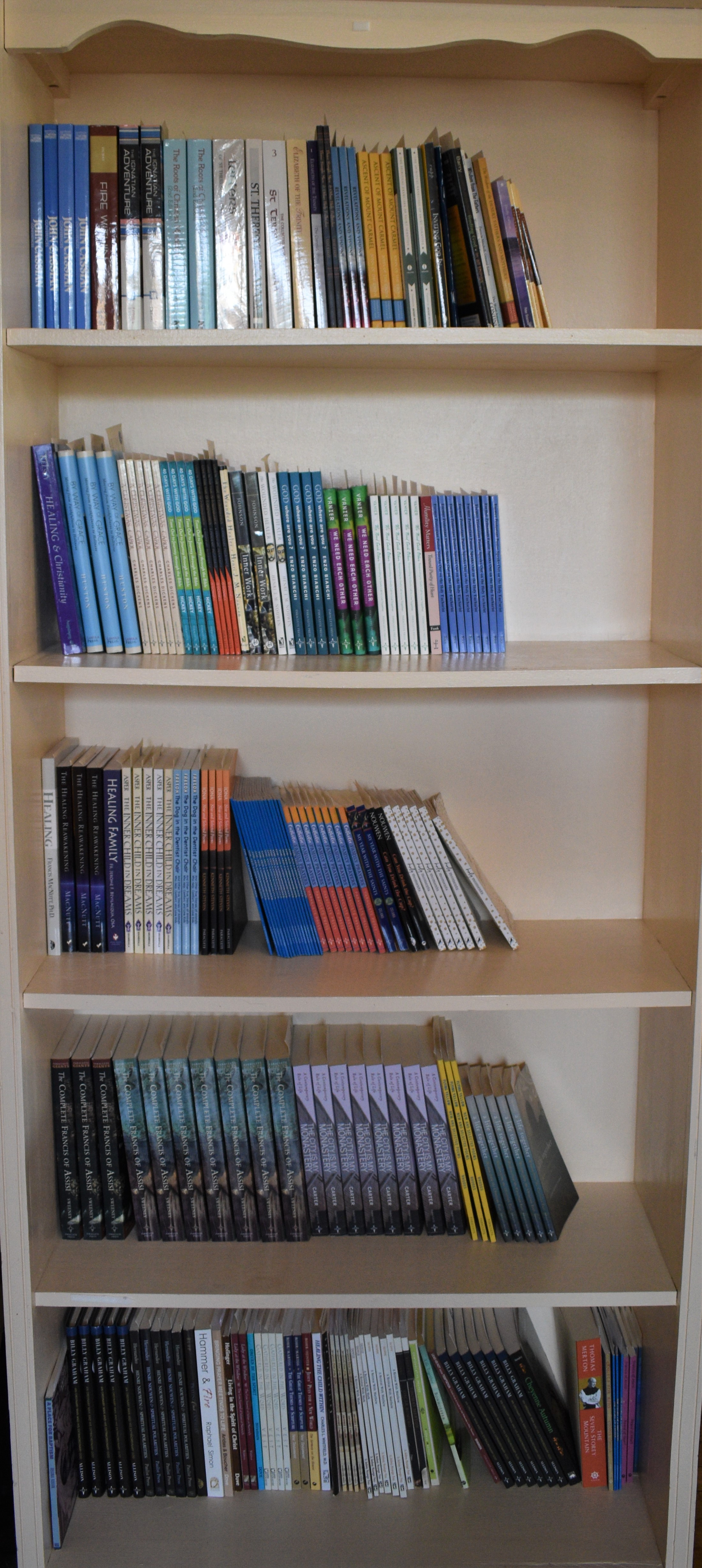 3rd Bookshelf, 1st Shelf
This Heavy Silence by Nicole Mazzarella: $19
This is my Beloved Son by Andreas Andreopoulos: $10
An Inner Step Towards God by Fr. Alexander Men: $20
Celtic Crossing by Len Mattano: $18
Chasing Manhatten by John Gray: $22
Bread for the Journey, a Daybook of Wisdom and Faith by Henri J.M Nouwen: $22
New Seeds Pocket Classics by Thomas Merton: $9
Rediscover Catholicism, A Spiritual Guide to Living with Passion and Purpose by Matthew Kelly: $18
2nd Shelf
One Great Love (Poems and Prayers) by the Paraclete Press: $22
Manchester Christmas (Hard Cover) by John Gray: $22
Manchester Christmas (Soft Cover) by John Gray: $17
Mr. Nicholas, A Magical Christmas Tale by Christopher De Vinck: $20
A Christmas Story, Margaret's Night in St. Peter's by Jon M. Sweeney: $11
Three Wise Women, 40 Devotions Celebrating Advent with Mary, Elizabeth, and Anna by Dandi Daley Mackall: $19
3rd Shelf
Another Brush with God by Peter Pearson: $28
Sister Wendy Beckett, Real Presence: $25
Praying in Color, Drawing a New Path to God by Sybil MacBeth: $18
Against the Wind, Courageous Apache Women by John P. McWilliams: $14
The Art of St. John's Bible by Susan Sink: $15
Accidental Grace, Prayers and Psalms by Rami M. Shapiro: $22
The New Life in Spirit, Seminars Team Manual by Theresa Boucher: $10
Follow Jesus, a Disciples Guide to Discerning God's Will by John J. Boucher: $10
Icon and Saints of Eastern Orthodox Church by Alfredo Tradigo: $20
Gold in Memories, Sacred Moments and Glimpses of God by Marina Wiederkehr: $13
All Generations Will Call Me Blessed by Jim McManus: $17
Faith Can Give Us Wings, The Art of Letting Go by Notker Wolf: $9
A Grace, A Challenge, and A Mission compiled by Sister Nancy Kellar, S.C.: $8
Encontrando Sanacion en 105 Pasajes Dificiles de la Bablia by Matthew, Shelia Fabricant, and Dennis Linn: $8
Following in the Footsteps of Christ by C. Arnold Snyder: $16
Heavenly Treasure by Robert Abel: $4
Evangelization, A Challenge for the Church: $1
What the Catholic Faithful Can Do by Gerard Morrissey: $4
A Kingdom of Saints by Larry Frank: $9
4th Shelf
Reading the World Through the Living Word (Franciscan Lectio) by Fr. Don Riley with Stephen Copeland: $22
Heaven Changes Everything (Hard Cover) by Todd and Sonja Burpo: $16
Heaven Changes Everything (Soft Cover) by Todd Burpo and Lynn Vincent: $10
I Told My Soul to Sing by Kristen Lemay: $18
The St. Francis Prayer Book by Jon M. Sweeney: $17
An Advent Book of Day by Gregory Kenneth Cameron: $17
A Year of Mercy with Pope Francis, Daily Reflection (Author Unknown): $17
Family Life by Pope Francis: $15
The Medicine of Mercy, Pope John XXII by Massimo Faggioli: $13
Opening the Windows to Wisdom, Pope John XXII by Alfred McBride O'Praem: $10
I Ask You to Pray for Me by Pope Francis: $13
Go to Galilee, The Spiritual Geography of the Gospels by Virginia Marie Butler, O.P.: $10
Your Light Gives Us Hope, 24 Daily Prayers for Advent by Anselm Griin: $20
Hunger for the World, Lectionary Reflections on Food and Justice, Year C by Larry Hollar: $20
4th Bookshelf, 1st Shelf
The Classic of Western Spirituality by John Cassian: $22
Fire Within by St. Teresa of Avila: $22
The Ignation Adventure by Kevin O'Brien, S.J.: $15
The Roots of Christian Mysticism 2nd Edition by Oliver Clement: $30
Letters of St. Theresa of Lisieux Vol. II by John Clark: $25
The Collected Works of St. Teresa of Avila Vol. 3 by Kieran Kavanaugh O.C.D.: $16
The Complete Works Vol. 1 by Sr. Elizabeth of the Trinity: $16
Three Simple Men & Holy Folktales by Jon M. Sweeney: $18