Accommodations
Our Rooms:
The guesthouse is an older structure, but still serves its purpose. The simply furnished rooms have been upgraded to provide you with a comfortable stay. The bathrooms are original and are not what we might have in our own home. However they are sufficient for the need and we do our best to upgrade and improve as necessary.
Each room has a private bathroom with either a shower or shower/bathtub combination. Each room has a ceiling fan. We also rely on guest feedback so please make suggestions if there is something you think might be of benefit to the room.
Our rooms are not equipped with telephones, television, or internet accessibility. Stand-alone fans are provided upon request.
Internet access
is available in the Guest House lounge. Wi-fi is available in some other locations (both the Guest House and Tolemei Center); however it is an unsecured connection.
Cell service can be limited, depending on your carrier.
Meals are offered during your stay and are simple yet satisfying. Please check with the guest services director regarding possible discounts for your stay such as AAA and AARP.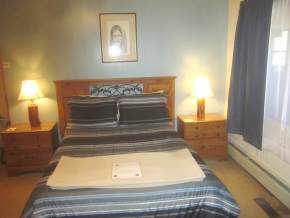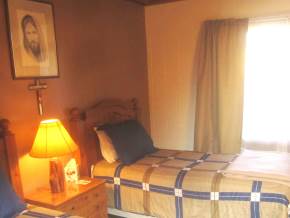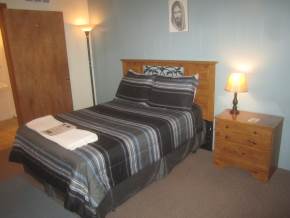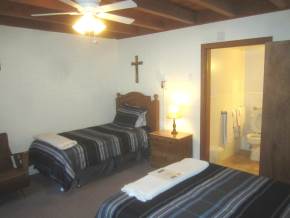 Our Hermitages:
For those who seek a more private experience, and for longer term personal retreats, our Hermitages are situated away from the main building. Access requires a short walk up a slight incline. The hermitages are not always available in winter due to snow fall which can be heavy at times. It may not be possible to go up the hill to get to your room.
There is a small kitchen area with a hot plate, coffee maker, microwave and refrigerator. Most guests have the main meal in the guest refectory, and bring their own provisions for their breakfast and supper in the hermitage. We do not discount the rate for the hermitages.
Cell phone service can be limited due to our mountain location. Internet access is available in the Main Building. Hermitages are single occupancy only. All Hermitage rooms have been upgraded with new furniture and bedding.
To schedule a Hermitage room reservation, please call 505.757.6415 ext. 112 for rates and availability.