Superior's Message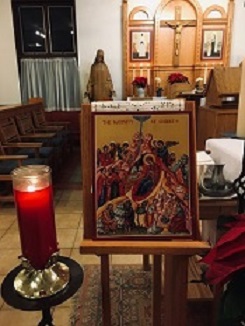 Dear Friend and Benefactor,
Peace to you all and I do hope you are staying healthy and safe as we continue to move through these difficult days of the pandemic. All of us in community have now received the Covid vaccine. And I must say it does give one a feeling of better protection, although we do still wear our masks and they are required for all who come onto the property.
Here we are now in the Easter Season until the celebration of Pentecost. We had a lovely Holy Week with many in attendance at the Liturgies. It is always amazing to me with the amount of preparation involved for the Triduum, and moving through each day, how the grace of God is present. I could not do what I do without His grace. We did have a few guests staying with us for the week and they enjoyed being able to participate this year, as I'm sure many of you did in your own parishes.
We are beginning to receive more phone calls and requests for individual retreatants, so that makes me very happy. People seem ready to take time away from the world to rest and recover from this past year. Our hermitages are very popular and provide a quiet space for healing of mind body and spirit.
Our housekeeper Aspen is kept busy with her untiring attentiveness to making sure each hermitage is ready and welcoming for our guests.
As I write this work has begun on the Jericho building. The communal bathrooms (six in number) are being torn out and will be replaced by four individual private bathrooms. Two of the bedrooms are large enough to have a small private bathroom added, so when it is finished the six bedrooms will all have private bathrooms.
I am upgrading the furnishings, fixing up the small kitchen, and generally making it available for small groups of six-seven people. I think smaller instead of larger is how we will be moving forward with our retreat groups.
Spring is very much in progress in the valley. Each day more and more green grass appears, the tress are budding, the willows changing color - what a beautiful moment it is when nature comes back to life.
We thank you for all of your support, may the Lord reward you in many ways.
In Christ,
Abbot Aidan, OSB oliv,
Planned Gift Giving:
To help us continue our monastic life and mission to be a beacon of light in the world, we value your ongoing help. We are a small community living a very simple life of prayer and work. We all know that prayer is very important, and we come together every day to pray for you and the needs of the world.
RETIREMENT ACCOUNTS/LIFE INSURANCE/ANNUITIES
Please consider naming the Pecos Benedictine Monastery as your primary or contingent (secondary) beneficiary on your retirement accounts, life insurance and any annuities you might have. Or you can name us as one of several beneficiaries by stating a percentage amount. Because these accounts have separate beneficiary forms, you will need to use the form provided by that institution, many of which allow you to make these adjustments on-line, or through your HR Department.
Here is the language you would use: "I designate the Pecos Benedictine Monastery to receive the sum of $____________ or ________% of my account/policy."
WILLS AND LIVING TRUSTS
Whether you use an attorney or a computer generated service like Legal Zoom to prepare your Will or Living Trust, by naming the Pecos Benedictine Monastery, your gift of any amount or percentage helps support our mission into the future.
Charitable gifts must be made from your estate or living trust with specific language - here is the suggested bequest language:
"I give and bequeath to the Pecos Benedictine Monastery $_______ or ________%."
GIFTS OF STOCK
You can give us stock directly, your financial advisor can help you with this. You can also contact our Investment Broker to assist you.
GIFTS OF REAL ESTATE
With a gift of real estate to the Pecos Benedictine Monastery, you can further our mission and lower taxes too.
GIFT ANNUITIES AND CHARITABLE TRUSTS
A Charitable Gift Annuity is a way to donate to the Pecos Benedictine Monastery at your death, receive a lifetime of income and get an income tax deduction. There are also special trusts called a Charitable Remainder Trust which works similar to a Gift Annuity but is more suitable for larger gifts.
TAX FREE GIFT FROM IRA
If you are currently required to take distributions from your IRA, you can donate up to $100,000 of those distributions from your IRA annually to the Pecos Benedictine Monastery as a Qualified Charitable Distribution.
It will satisfy all or part of your required minimum distribution and allow your gift to support the Monastery. Your IRA administrator can send a check directly to the Pecos Benedictine Monastery.
Please be sure to notify us if this is a way you would like to support our ministry so that we can acknowledge you appropriately.
This information provided is for explanatory purposes only and is not intended to be used as tax advice. The Pecos Benedictine Monastery recommends that you contact a professional tax advisor who can provide you with additional information on how your participation in the what is provided above may affect your personal tax situation.
You are welcome to contact our Finance Office. Sherwin will be happy to assist you with any questions you might have. He can be reached Tuesday - Wednesday 9:00 am-3:00 pm at ext: 104.
Thank you and God bless you.