Superior's Message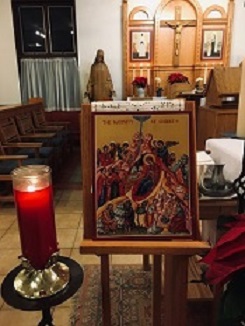 Dear Friend and Benefactor,
Peace to you all and I do hope you are staying healthy and safe as we continue to move through these difficult days of the pandemic. A difficult time for us all, affecting us in so many ways. And let us not forget those in other countries who are suffering much more than we are.
I am often slow at updating this page, so I apologize for that - sometimes there just do not seem to be sufficient hours in the day to do all one has to do.
As I had mentioned previously, all of us in community received the Covid vaccine. And I must say it does give one a feeling of better protection, although we do still wear our masks and they are required for all who come onto the property.
Myself and all the employees have taken the online course offered through the State of New Mexico to be Covid Safe - so we are now certified as NM Covid Safe Trained Environment. Of course we still take as many precautions as we can - we are not out of the woods yet with the Pandemic.
Summer seems to have passed by so quickly, we are already feeling the first hints of Fall in the air, with some of the trees and shrubs turning color. The days are comfortably warm, and the nights are cozily cool for sleeping. One of our volunteers is at work in the wood yard cutting wood to supply the wood stove through winter.
We continue to receive phone calls and requests for individual retreats, so that makes me very happy. People seem ready to take time away from the world to rest and recover from this past year. Our hermitages are very popular and provide a quiet space for healing of mind body and spirit. The re modeling of the Jericho building is now complete and we are happy with the result. Our contractor did an excellent job, and he seems to be quite please with the way it turned out. It has been used twice thus far by small groups and we have received very positive feedback.
Let us hold one another in prayer, and be ever grateful for all we have.
We thank you for all of your support, may the Lord reward you in many ways.
In Christ,
Abbot Aidan, OSB oliv,
Planned Gift Giving:
To help us continue our monastic life and mission to be a beacon of light in the world, we value your ongoing help. We are a small community living a very simple life of prayer and work. We all know that prayer is very important, and we come together every day to pray for you and the needs of the world.
RETIREMENT ACCOUNTS/LIFE INSURANCE/ANNUITIES
Please consider naming the Pecos Benedictine Monastery as your primary or contingent (secondary) beneficiary on your retirement accounts, life insurance and any annuities you might have. Or you can name us as one of several beneficiaries by stating a percentage amount. Because these accounts have separate beneficiary forms, you will need to use the form provided by that institution, many of which allow you to make these adjustments on-line, or through your HR Department.
Here is the language you would use: "I designate the Pecos Benedictine Monastery to receive the sum of $____________ or ________% of my account/policy."
WILLS AND LIVING TRUSTS
Whether you use an attorney or a computer generated service like Legal Zoom to prepare your Will or Living Trust, by naming the Pecos Benedictine Monastery, your gift of any amount or percentage helps support our mission into the future.
Charitable gifts must be made from your estate or living trust with specific language - here is the suggested bequest language:
"I give and bequeath to the Pecos Benedictine Monastery $_______ or ________%."
GIFTS OF STOCK
You can give us stock directly, your financial advisor can help you with this. You can also contact our Investment Broker to assist you.
GIFTS OF REAL ESTATE
With a gift of real estate to the Pecos Benedictine Monastery, you can further our mission and lower taxes too.
GIFT ANNUITIES AND CHARITABLE TRUSTS
A Charitable Gift Annuity is a way to donate to the Pecos Benedictine Monastery at your death, receive a lifetime of income and get an income tax deduction. There are also special trusts called a Charitable Remainder Trust which works similar to a Gift Annuity but is more suitable for larger gifts.
TAX FREE GIFT FROM IRA
If you are currently required to take distributions from your IRA, you can donate up to $100,000 of those distributions from your IRA annually to the Pecos Benedictine Monastery as a Qualified Charitable Distribution.
It will satisfy all or part of your required minimum distribution and allow your gift to support the Monastery. Your IRA administrator can send a check directly to the Pecos Benedictine Monastery.
Please be sure to notify us if this is a way you would like to support our ministry so that we can acknowledge you appropriately.
This information provided is for explanatory purposes only and is not intended to be used as tax advice. The Pecos Benedictine Monastery recommends that you contact a professional tax advisor who can provide you with additional information on how your participation in the what is provided above may affect your personal tax situation.
You are welcome to contact our Finance Office. Sherwin will be happy to assist you with any questions you might have. He can be reached Tuesday - Wednesday 9:00 am-3:00 pm at ext: 104.
Thank you and God bless you.