History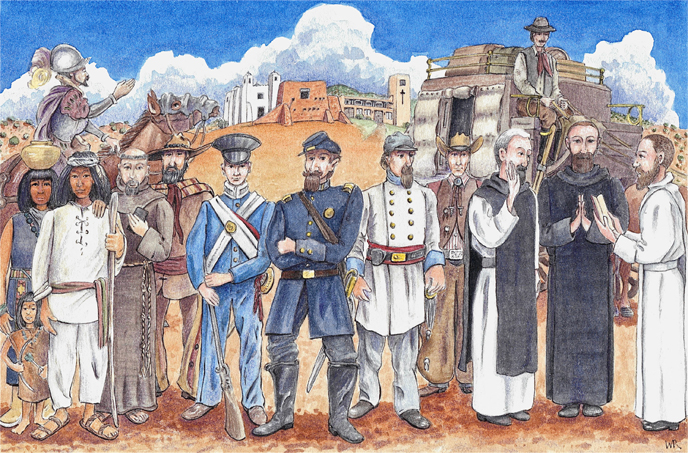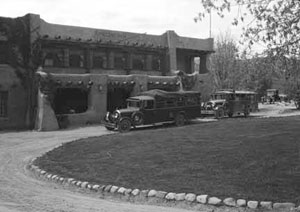 What is now the Village of Pecos and the Pecos River Canyon and surrounding area have been settled since at least the 8th century. Impressive ruins, archeology and history are preserved at the
Pecos National Historic Park
several miles from the Abbey. Centuries before the arrival of the Spanish, native nomads and traders built a multi-storey pueblo on what is now Glorieta Creek. In the 1400s Pecos Pueblo was a regional power and center of trade for the people of the plains and area travelers.
The expedition of
Francisco Vasquez de Coronado
arrived in the Pecos area in September of 1540 and traveled as far north as Terrero. On September 25, 1689 don Domingo Fironza de Cruzate, Governor and Captain General of New Spain, declared this land to be Royal and public domain in the name of
His Majesty Charles II, King of Spain
. The Cañon de Pecos was granted to Juan de Dios Peña by
His Majesty Ferdinand VII, King of Spain
, on March 28, 1815. On September 25, 1821 the area became independent of Spain and part of Mexico.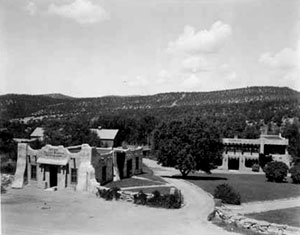 The United States declared
war against Mexico
on May 13th, 1846. On August 19th, 1846 New Mexico was claimed as United States territory by
General Stephen Watts Kearney
. The property on which the Abbey now stands was purchased by Alejandro Valle on May 31, 1852. Between March 26 and 28, 1862 the
Civil War Battle of Glorieta Pass
was fought nearby; the decisive battle that thwarted Confederate efforts to break the Union hold west of the Rocky Mountains. The property was sold at auction to the Valley Ranching Company on April 10, 1886. The State of New Mexico joined the Union in 1912. From 1882 to 1939 the Terrero Mine in the Pecos Canyon employed about 600 people. Ore was conveyed from the mine site north of Terrero (Spanish for mine dump) to the milling site (el Molino) just over the Abbey's west ridge by suspended cable. Many of the roads, bridges and camp grounds in the canyon were created by the
Civilian Conservation Corps
in the 1930s. What is now the Abbey Gift Shop served as a stage coach stop along the
Santa Fe Trail
and as the Post Office for the mine. Our carpenter shop was the stable. During the heyday of dude ranches along
Route 66
, both the Valley Ranch and the
Forked Lightning Ranch
, which was owned by the actress Greer Garson and her husband Buddy Fogelson, were popular destinations.
In 1947 Trappist monks from
Our Lady of the Valley Abbey in Rhode Island
bought the Valley Ranch and formally established the first monastery here in 1948. The Trappists moved to Oregon establishing another
Our Lady of Guadalupe Abbey
there in 1955, selling the monastery property to Benedictine monks from
St. Benedict's Abbey in Wisconsin
who operated the monastery until 1985, when it became part of the
Olivetan Congregation
. From 1969 to 1985 the monastery served as a center of the
Catholic Charismatic Renewal
.
Our Lady of Guadalupe Abbey now enters the 71st year of continuous monastic presence in Pecos. We look forward to serving the needs of our neighbors and guests for many years to come.