Ministry Statement
Retreat Ministry Statement: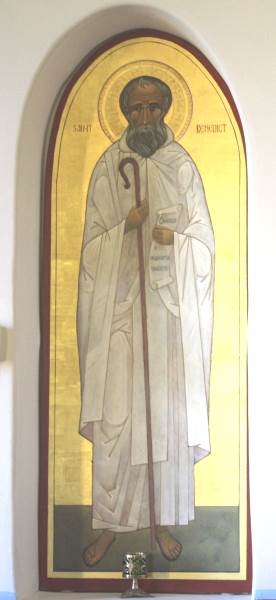 It has been four years since I returned from Rome and assumed the responsibility of implementing some necessary changes here at the monastery. Much has been accomplished in those years, but there is more yet to be done to build up God's Kingdom. Some of the changes have been hard, but we all know that there is no growth without change. We also know that our world itself is in a place of change, nothing is as it was. Just look at the changes in electronics and cyber space for example.
Much needed attention has been given to the infrastructure of the property, with new electric wiring and breaker boxes, new water lines and gas lines, windows and doors, a new driveway, new stucco on the main building, remodeling of the monks cells... the list goes on. And all of it was needed.
Currently I am focusing on our spiritual life and vision, and how that relates to the retreat ministry. Our main guest house was refurbished last year, and another building has recently been remodeled to offer another 20 guest rooms. The newest building is named the Tolomei Center, and it is available for groups who want to have a quieter, self-contained retreat. The groups can stay, meet and eat under one roof.
As a retreat destination in this beautiful State, we have been `off the radar' so to speak for many years with many Catholic groups. But I'm happy to say that is changing, and the change is good and is being blessed by God.
In co-operation with the Archdiocese of Santa Fe and with the support of His Excellency the Most Rev. Archbishop Michael J. Sheehan, retired, I have been working diligently on building up our image as an authentic Catholic community of Benedictine monks following the Rule of St Benedict, and living by the teachings of the Holy Roman Catholic Church.
It is an exciting time here, the Spirit is moving with an echo of what Pope John XXIII said when he announced the Second Ecumenical Vatican Council, commonly known as Vatican II... he said it was time to open up the windows of the Catholic Church and let in some fresh air. And so he did, and so it happened.
The Catholic Church is a pilgrim church, she is on the move, and the Holy Spirit is working very powerfully. And that same Spirit is at work here in this monastery. We continue to receive many new reservations for our guest houses and we are thankful. God is blessing us.
For further information on our retreat ministry please contact our reservations office at the following email addresses,
guestmaster@pecosmonastery.org
or
manager@pecosmonastery.org
or call the office at extension 112 and speak to Bruce Wadsworth our retreat/marketing director. You may also ask for a marketing folder which includes a DVD of the property. We look forward to hearing from you and hosting your group.
Thank you, and may God bless you.
Abbot Aidan Gore, OSB oliv