Carmelite Spirituality: St. Teresa of Jesus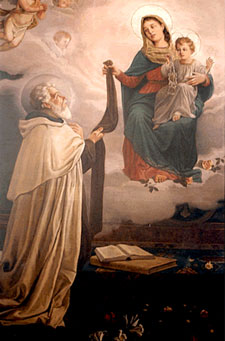 The Carmelite order, definitively established in the West in the 13th century as a group of mendicants, has produced a rich variety of saints. Notable have been St. Simon Stock who is said to have received the Brown Scapular from Our Lady and St. Mary Magdalene de' Pazzi who received many mystical graces during her life.
In the 16th century there was tremendous ferment in the Church. The Protestant Reformation had split Christendom in the West in two. The Church hierarchy looked upon spiritual innovations, especially among women, with concern.
At this time a Carmelite nun in the town of Avila, Spain received an inspiration from the Holy Spirit. She sought a reform of the Carmelite life she had been living by returning to the primitive observance of the rule and a deeper contemplative life. This woman was Teresa of Jesus, one of the most remarkable women in history. With the help of John of the Cross, whom she recruited, she led a reform of the Carmelite Order and set in place a foundation that would provide a guide to spiritual growth not only for Carmelites but for Christians throughout the world.
St. Teresa of Jesus will be the subject of a week-long class to be led by Br. Edmond Myszkier OSB oliv. at the Pecos Benedictine Monastery. Br. Edmond has MA degrees in Catechetics and Theology and has earned a Master of Divinity degree from Holy Apostles Seminary. Prior to professing vows at Our Lady of Guadalupe Abbey he had made definitive promises as a member of the Holy Cross Lay Carmelite Community in Albuquerque, NM.
Who:
Those who are interested in finding out more about the Purgative, Illuminative and Unitive Ways to Spiritual Perfection through the eyes of St. Teresa of Jesus (and St. John of the Cross) who are two great Carmelite doctors of the Church. The study of the writings of St. Teresa is a great help to those seeking to make spiritual progress and to understand how God is working in their lives.
Where:
Our Lady of Guadalupe Abbey, Pecos NM
When:
Sunday, October 22, through Friday, October 27, 2017
What:
An introduction to the teachings of St. Teresa as found in three of her principal works: The Autobiography, The Way of Perfection and The Interior Castle. (St. John of the Cross and his works The Living Flame of Love, The Ascent of Mt. Carmel and The Dark Night will be used to help illuminate Teresa's teachings.)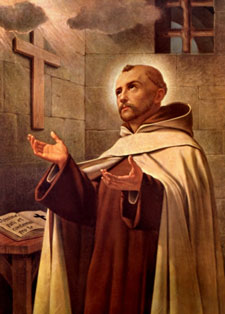 Presentations will be made by Br. Edmond during two, 1-hour morning sessions from Monday through Friday (i.e. 10 sessions total). Afternoons and evenings may be spent by students reading the handout materials, original or secondary sources, participating in group discussion and/or Q&A, or in prayer, meditation and reflection. The following suggested works will be available at the monastery bookstore for purchase:
The Collected Works of St. Teresa of Avila, Volumes 1 - 3
Translated by Kieran Kavanaugh, OCD, and Otilio Rodriguez, OCD. These three volumes contain Teresa's complete works including the materials mentioned above.
The Collected Works of St. John of the Cross
Translated by Kieran Kavanaugh, OCD,and Otilio Rodriguez, OCD
Revised edition (1991). Includes general and biblical index.
Study editions of several of Teresa's writings are designed to assist contemporary readers to apply her spiritual insights to their own lives. They provides introductions, reflections and discussion questions for each of the chapters of the texts.
Cost for Resident Participants: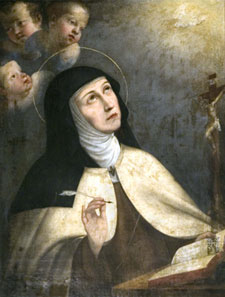 $450.00 (includes 5 nights lodging and 3 meals a day, classes, handout materials, light refreshments and a $25.00 giftshop/bookstore credit)
$85.00 deposit
Cost for Commuters:
$150.00 (includes classes, handout materials, light refreshments, the mid-day meal M -F, and a $25 giftshop/bookstore credit).
Schedule of Carmelite Spirituality Class
Sunday
| | |
| --- | --- |
| 3:00 pm | Check-In (You can arrive earlier but you may not be able to check into your rooms until this time.  More on that later.) |
| 4:30 pm | Rosary |
| 5:00 pm | Vespers with Benediction |
| 5:40 pm | Welcome Dinner |
| 7:00 pm | Welcome session and introduction |
Monday through Friday
| | |
| --- | --- |
| 5:30 am | Rising Bell |
| 6:00 am | Vigils |
| 7:00 am | Lauds |
| 7:30 am | Holy Mass |
| 8:10 am | Breakfast (approx.) |
| 9:15am-10:15 | Early Morning Talk |
| 10:45am-11:45 | Mid-Morning Talk |
| 12:00 pm | Midday Prayer |
| 12:15 pm | Dinner (major meal) |
Afternoon
Rest, Recreation, Reading, Private Prayer, Q and A, or group discussion (all optional)
| | |
| --- | --- |
| 4:30 pm | Rosary                             (4:00pm Thurs.) |
| 5:00 pm | Vespers                            (4:30pm Thurs.)        |
| 5:30 pm | Supper                               (5:00pm Thurs.) |
| 6:30-7:30pm | Eucharistic Adoration with Compline at 7:15pm (Monday, Tuesday, Wednesday and Friday) (On Thursday, Adoration and Compline can be done privately.) |
NB
By 10:00 am on Friday please vacate your rooms (unless staying for additional day(s)).
Friday talks will be given as normal. Retreatants can stay for dinner at midday and remain at the monastery through evening Vespers.
All prayer with the monastic community is optional.
Schedule of Talks:
Introduction to the Three Ways: Purgative, Illuminative, Unitive: Part 1 - Sunday Evening
Introduction to the Three Ways: Purgative, Illuminative, Unitive: Part 2 - Monday, Talk 1
Introduction to St. Teresa of Jesus - Monday, Talk 2
St. Teresa's Autobiography: Part 1 - Tuesday, Talk 1
St. Teresa's Autobiography: Part 2 - Tuesday, Talk 2
The Way of Perfection: Part 1 - Wednesday, Talk 1
The Way of Perfection: Part 2 - Wednesday, Talk 2
The Interior Castle: Part 1 - Thursday, Talk 1
The Interior Castle: Part 2 - Thursday, Talk 2
Teresa of Jesus on Prayer: Friday, Talk 1
St. Teresa of Jesus: Summing things up - Friday, Talk 2